Mitigating fire risks in factories and malls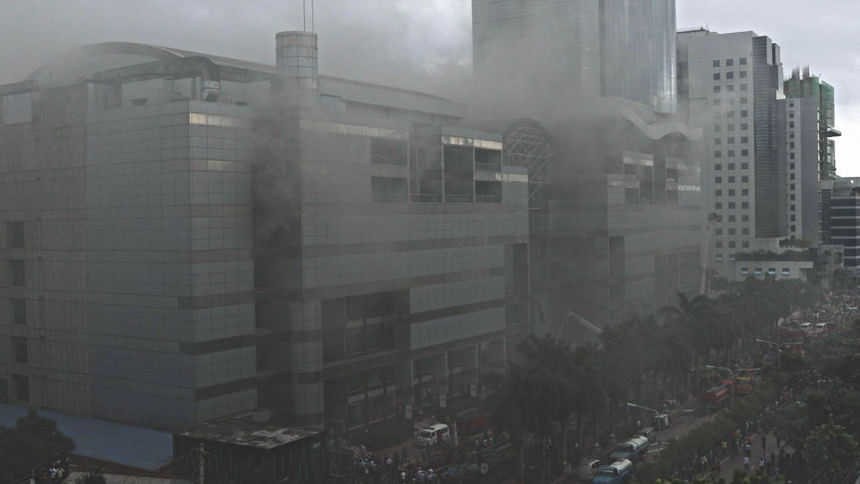 A fire that broke out at Bashundhara City Shopping Mall in Dhaka on the morning of August 21 was brought under control nearly 16 hours after the incident. The association of the Bashundhara Shopping Mall claimed that the extent of loses from the fire could go up to Tk. 500 million as some 100 shops of level-6 of the mall had been damaged.
 Another fire broke out on the third floor of the five-storey Tropical Knitex Ltd factory building in Gazipur district on the night of August 19. After fighting for 16 hours, fire fighters managed to rein in the fire. Referring to the statement of the factory authorities, media reported that goods, machinery, thread and other commodities worth Tk. 180 million in all were ruined in the flames.
In the month of February 2016, several fires broke in Dhaka and the surrounding areas. A factory located in Gazipur, a supplier to retailers like JC Penney and H&M, caught fire on February 2. Luckily, most of the factory's 6,000 employees were not yet on the premises, as the fire took place at 7 am in the morning.  
In 2012, more than 110 people died in a fire at the Tazreen Fashion factory.
These incidents indicate that safety measures in factories and malls are not properly maintained.
Fire is one of the most common hazards in Bangladesh. It causes huge loss of lives and properties every year. Fire is a common occurrence in the readymade garment industry. RMG factories employ more than four million workers. But unfortunately, the issue of workers safety is in dire need of further improvement. 
The leading cause of death in fire is asphyxiation, by a three-to-one ratio of burns. Fire consumes the oxygen in the air, while increasing the concentration of deadly carbon monoxide and other toxic gases in the atmosphere. Inhaling carbon monoxide can cause loss of consciousness or death within minutes. The heat from a hostile fire exceeds anything to which a person is normally exposed. Fire generates a black, impenetrable smoke that blocks vision and stings the eyes. 
The damage of utility networks and fire would be the main causes of fatalities if a major earthquake strikes Dhaka city. Earthquake experts claim that the entire city would be in danger of incurring heavy fire catastrophes due to outbursts of gas pipelines and chemical factories during a major earthquake.
Although termed a 'fire accident', most fire incidents are far from being accidental. In fact, most fires are preventable. Industrial units, particularly garments industry, produce the deadliest fires. Tragically, factory fires are all too common in Bangladesh.
However, by taking proper safety measures and training, fire risks could be reduced. To comply with Section 62 of the 2006 Bangladesh Labor Act, factories, mega malls and industries need to adopt the measures mentioned below to ensure proper safety and security of their workplace.
Fire codes in building construction, safety equipment arrangement, utility facilities, furniture settings, etc. must be strictly followed to meet safety regulations and guidelines. Moreover, an alternate exit with stairs connecting all the floors of the factory building must be ensured. The size of stairways and exits must be adequate to accommodate a large number of people in case of emergencies.
Exit routes must be sufficient for the number of workers employed in the factory and must remain unlocked during working hours so that workers can easily evacuate the place in case of danger.
Management of factories and malls should conduct evacuation drills in their buildings each year. Immediate and appropriate first aid box should be made available on each floor of the buildings. A well-organised first aid system ensures quick medical treatment that can prevent the loss of many working days. Management should regularly review and inspect the safety situation within their premises. Any misstep or mishap identified during the review should be solved timely to ensure that workers or other inhabitants do not suffer any loss.
Managers, supervisors and workers of factories should be properly trained in fire and safety procedures. Thus, they could be trained to ensure safe exit of their colleagues and themselves from the building during or following an incident.
Hazardous materials need a proper storage system to minimise the risk of fire, explosion, serious personal injury and environmental contamination. 
Electrical safety is very crucial as it is closely associated with fire breakouts. That's why regular maintenance and proper electrical installation is very important. Most of the time, improper electrical wiring and overloaded electricity lead to fires. 
Considering the vulnerability and risks associated with fire outbreaks in the country, the responsible authority of any factory and shopping mall should adopt the following measures to reduce the risk of fire in their establishments with effective engagement of the working forces:
1) There should be someone (or a separate department) who is given the responsibility to check the management of fire risks. 
2) Safe storage of burnable material is appropriate.  
3) Heat sources (naked flame, electrical equipment, welding, grinding, hot light sources, etc) should be well managed and kept away from combustible materials.  
4) Fire exits should be unobstructed and available at all times. It should also be ensured that emergency lights are in working order.
 5) Fire resisting doors and shutters should be kept closed as far as practicable to limit the spread of fire and smoke. 
6) The frequency of monitoring should be enhanced to enforce the highest standards of housekeeping. 
7) Effective arrangements should be in place to provide appropriate information to fire fighters on arrival. 
Finally, concerned government authorities should encourage the owners and workers of various organisations to ensure safety measures at all times by focusing on appropriate technical assistance, monitoring and proper supervision mechanism.
The writer is a disaster risk reduction expert and development lawyer.