Living dangerously is not a choice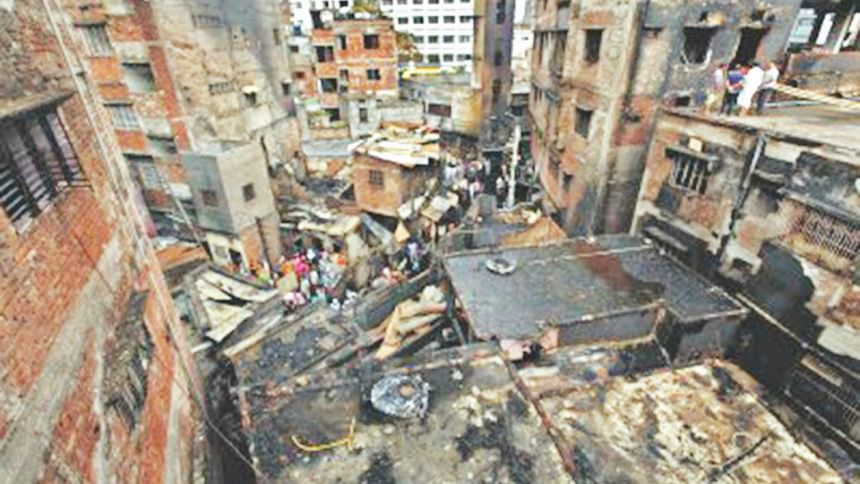 ON the evening the Phoenix Garments factory building crashed at Dhaka's Tejgaon (February 25, 2006), a television channel (I forget which) took me to the site of crumpled bricks and concrete elements to record live my reflection on the tragedy; 21 people had died that morning.
Let us not be too concerned about this five-storied building (Phoenix) that has collapsed. The reasons could be any or all - perhaps unruly construction, bad workmanship, lack of supervision, poor building materials and/or under design, said I on camera. But, we should focus our attention on other buildings which might be in a likewise risky condition. Let us inspect our buildings voluntarily, I appealed, and see if we can identify similar cowboy activities in other buildings that may endanger the workers, the management, and people not remotely concerned; some passers-by died in the Phoenix tragedy. I do not call them accidents because the entire incident need not have happened.
No one really bothered and Phoenix was let off as just another bird in the sky. There have been smaller incidents of building collapse, but the big one came on April24 , 2013 when Rana Plaza in Savar crumpled. In perhaps the deadliest incidence of structural failure in recorded history, and the worst involving a garment factory, the official death toll was 1129 and the listed injured tallied to 2515; almost no one who was inside the building at the time was spared. 
Unauthorised construction and rampant violation of code, yes, but have we tried to find other Rana Plazas in the country? I can assure you with authority that there are many more. Are those owners even concerned that hundreds if not thousands in their buildings may be in jeopardy? Deliberate homicide if you ask me.
Highly flammable chemicals were being stored illegally, so they say, in a congested, densely populated residential area in Dhaka's Nimtali. On the evening of June 3, 2010 at 10.30pm, a transformer burst and the entire area of several dozen houses was smouldered to charcoal in a flash of a few seconds. 117 people died on the spot, several more later. Most of the victims could hardly move; those who could found their path blocked by grilled windows, and the lack of an alternate escape route did not help.
The night after one of the worst residential area fire incidents in modern history, while trying to find answers to who, why and what on Bangla Vision (TV), I took it on me to appeal rather fervently I thought to the people of Old Dhaka not to wait for the police or any court order, but to go out the next morning and weed out all illegally hoarded chemicals in their respective areas; after all, well over one hundred people had lost their lives and a comparable catastrophe could strike again. Did anyone listen? If my report is correct, Nimtali and the chemical business in Old Dhaka is thriving. The dead are forgotten soon enough, that is life, but let us not forget that come tomorrow, without lessons being learnt in earnest, we too could be the ones being forgotten.
Saraka Garments, Mirpur, Dhaka, 27 December 1990: 32 dead, Sanghai Fashion and Tamanna Garments, Mirpur, Dhaka, 30 July 1997: 27 dead; Chowdhury Knitwear, Narsinghdi BSCIC, 25 November 2000: 54 dead; Europa, Four Wings, Miko Garments, Mirpur, Dhaka, 8 August 2001: 26 dead; Shaan Knitting, Narayanganj, 6 January 2005: 23 dead; Spectrum factory, Savar, Dhaka, 11 April 2005: 64 dead; KTS Textile, Kalurghat BSCIC, Chittagong, 23 February 2006: 91 dead; Garib & Garib factory, Gazipur, 26 February 2010: 21 dead; Ha-Mim Group, Ashulia, Dhaka, 14 December 2010: 26 dead; Tajreen Fashions, Ashulia, Dhaka, 24 November 2012: 124 dead and several other incidents have taken away hundreds of lives; some of the victims barely 14.
For our flourishing garment industry, the envy of a competitive world, every occurrence has been a reminder that we need to learn more. The lessons have been very hard and each death deeply painful, every injury a saga of untold misery.
For the very survival of their business, garment factory owners by and large have taken the matter of maintaining a sound track record in safety with all seriousness. To meet compliance requirements of their buyers, if not to provide a safe working environment for their employees, many garmentfactories have tidied up their house, but clearly more needs to be done, even if only to sustain what has been achieved.
The best practice garment factories are role models. Back-peddlers and those marking time need to emulate them urgently. Investments on workers are always repaid with interest by the workers in increased productivity; remembering only that much can make a gulf of a difference to both the business and the bread-earners.
The author is a practising Architect at BashaBari Ltd., a Commonwealth Scholar and a Fellow, a Baden-Powell Fellow Scout Leader, and a Multiple Paul Harris Fellow-cum-Benefactor Rotarian.