Rural Women: Holding up half the sky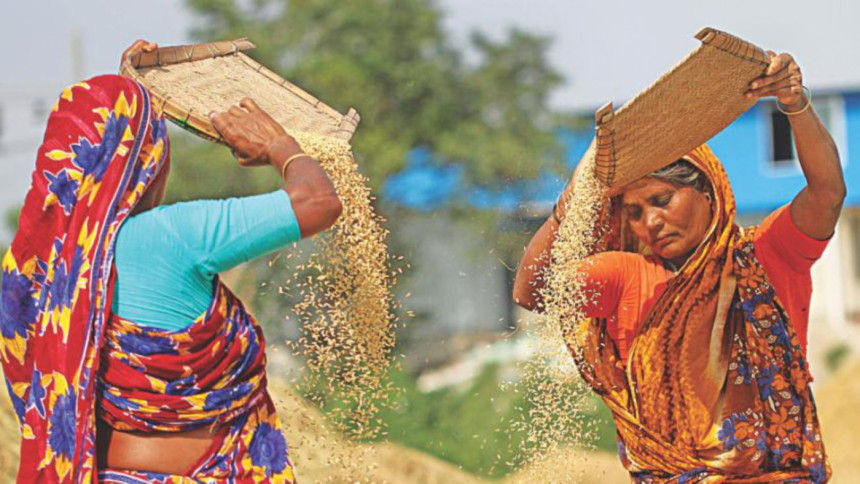 October 15 was the International Rural Women Day. The first International Day of Rural Women was observed on October 15, 2008. This new international day, established by the General Assembly in its resolution 62/136 of December 18, 2007, recognises "the critical role and contribution of rural women in promoting agricultural and rural development, improving food security and eradicating rural poverty."  
The United Nations Secretary General, Ban Ki Moon, in his speech to mark the occasion, said, "They are farmers and farm workers, horticulturists and market sellers, business women and community leaders. Rural women are the backbone of sustainable livelihoods and provide food security for their families and communities." 
Unfortunately, the contribution of rural women, whether they are involved in care or agriculture work, remains largely unseen and invisible. Their role as the main source of providing food security for the family and community is ignored as most of their work is considered reproductive without any economic benefits. 
Globally, the scenario of rural women is the following: 
Women produce 60-80 percent of basic foodstuffs in sub-Saharan Africa and the Caribbean. Women perform over 50 percent of the labour involved in intensive rice cultivation in Asia. Women perform 30 percent of the agricultural work in industrialised countries. Women head 60 percent of households in some regions of Africa: Women meet 90 percent of household water and fuel needs in Africa. Women process 100 percent of basic household foodstuffs in Africa.
However, in spite of these figures, 500 million women in the world live below the poverty line in rural areas. 
In Bangladesh, the contribution of rural women remains unseen and unrecognised as elsewhere in the world. In spite of taking the major burden of household work, including food preservation, preparation and production, they remain invisible and undervalued. According to Mr. Sykh Shiraj, noted agriculture expert, the entire process of rice production requires 22 activities, from sowing of paddy to bringing it home as food. Out of these 22 activities, 17 are performed by women. The world recognises and credits Bangladesh for having attained self-sufficiency in food production. If 17 out of 22 activities are performed by women, who should get the real credit for this miraculous feat?  Incidentally, the Bangla word kishani is not in usage, as the term farmer or krishak is synonymous with men only.  
The reason for women's work remaining unrecognised is because it is not evaluated. The care-work she performs at home - cooking, cleaning, taking care of children and elderly - are all considered household chores and therefore, reproductive work. Ironically, what should be recognised as productive work, such as taking care of animals, poultry, preservation of seeds, drying of paddy, husking, etc., is also considered household work or shangsharer kaaj. As she does not take her  product to the market or does not get paid for her labour at home, she remains as economists will explain, "Out of the System of National Accounts" (SNA). Remaining out of the SNA means her contribution cannot be counted in the GDP. 
In a recent study conducted by Centre for Policy Dialogue (CPD for Manusher Jonno Foundation, it was revealed that on an average, a female member of a household undertakes 12.1 non SNA activities on a typical day, the corresponding figure for a male member is only 2.7. However, the most stunning finding of the study is "if women's unpaid work were to be monetised it would amount to 2.5 or 2.9 times higher than the income of women received from paid services." The study goes on to summarise that the estimated value of women's unpaid non-SNA (household) work, if monetised, was equivalent to 76.8 to 87.2 percent of GDP (FY 2014-2014).  
The non-recognition of women's work has led to their marginalisation as a productive force, although they are by and large responsible for the food security, health and well-being of their family and community. The invisibility of their contribution has led to their devaluation and not getting the honour and respect they deserve at home and in society. Consequently, this translates into their lower status as compared to men, both at home and outside. One can go further to add that it is the lower status of women that results in inequality, discrimination and violence against them. 
On the other hand, there are approximately 20 million rural women who are employed in forestry, fisheries and agriculture labour. The situation is no better for them. They are involved in backbreaking work all day, get paid less than men for the same amount of work and yet when they go home, they are required to perform all the duties and responsibilities that society has accorded to them as wives and mothers and homemakers. The meagre salary they earn is spent for the wellbeing of their family, leaving them poor, disempowered and in constant ill-health. 
Manusher Jonno Foundation, with other partners, has launched a campaign titled "Equality through Dignity" to reduce discrimination and violence against women, by highlighting their contribution and thereby, raising their status. Highlighting their contribution through quantifiable evidence would create a change in mindset that presently disrespects and demeans women, seeing them as dependent, a burden and therefore, deserving of discrimination, inequality and violence. It is widely believed that violence and discrimination against women is an offshoot of their lower status at home and in society. Massive campaigns are required to change such negative attitudes towards women.
Although Bangladesh has made great strides in the last 20 years in terms of political, social and economic empowerment of women, the plight of rural women still remains an area of concern. To change the present situation, radical policy support is required side by side with campaigns and awareness raising mobilisation. The present system of counting the national account (SNA) has to be revisited to include the unpaid and un-estimated work of women, so that their contribution is included in the GDP.  Society needs to understand that women have dual roles, reproductive and productive, and they are capable of performing both these roles equally and effectively. Both these roles deserve respect and appreciation.  Disrespecting and demeaning half the population can never take us forward towards a future of prosperity and human dignity. It was Mao Zedong who said, "Women hold up half the sky"; perhaps he understood the importance of women's work and what a catastrophe it would be if they stopped working for a single day. 
The writer is Executive Director, Manusher Jonno Foundation.