Youth summit held on career, entrepreneurship in e-commerce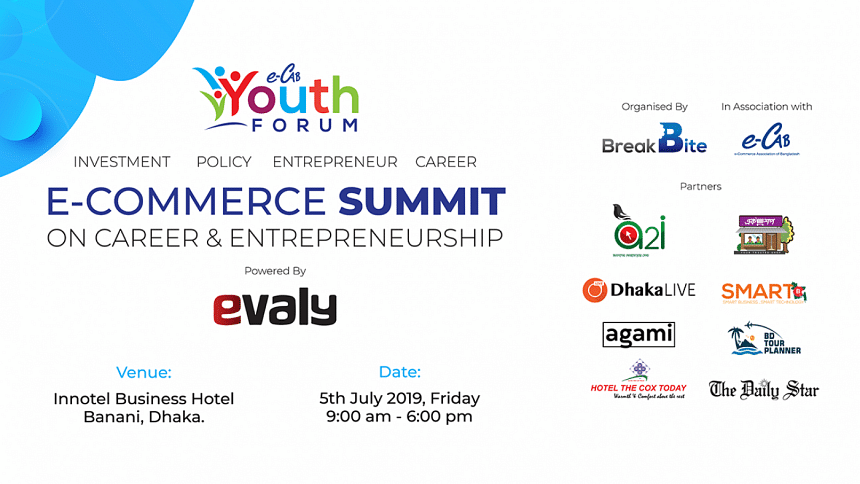 To create entrepreneurs in the field of e-commerce, a day-long summit has been held with the initiative of the e-Cab Youth Forum in Dhaka.
The Conference of E-Commerce Summit on Career and Entrepreneurship, powered by Evaly, was held on Friday, July 5, at the Innotel Business Hotel in the capital's Banani.
The programme offered a set of panel discussions on the future of e-commerce, with 18 speakers and more than 150 participants and 25,000 online participants who joined through Facebook Live.
In the first session, Asif Ahnaf, president of e-Cab Youth Forum, took part in the discussion on the future of entrepreneurs in the country's e-commerce sector.
The other speakers of the discussion were: Zia Ashraf, COO of Chaladal.com; Mirajul Haque, CEO of Bagdoom.com; Mohammed Rasel, founder and CEO of Evaly; and Shahab Uddin Shipon, founder and CEO of Dinratri.com.
In the second session, a workshop on "Business Plan and Financial Management" was held. Rezwanul Haque Jami, head of e-commerce at A2I and vice-president of e-Cab, was present on the occasion as the chief negotiator.
Leaders of human resource department of an e-commerce company took part in the panel discussion about the ambitious prospects of e-commerce. In this session, CEO of Pickaboo Morin Talukder, Head of Business of Biddhut Limited Md Sazzadul Islam, and Head of Human Resources Division of Sohoz Limited Aafaltun Kaiser, gave advice to the young people who were present in the summit.
In the last session of the conference, a policy dialogue was held on "Diversified e-Commerce Market", chaired by e-Cab President Shomi Kaiser. Among others, CEO of PriyoShop Ashikul Alam Khan and Managing Director of Innovadious Pvt Ltd Mohammad Mehedi Hasan were also present.
The top officials of various e-commerce companies including Daraz, Evaly, Bagdoom, PriyoShop, Chaladal, Aponzone, Dinarattri, Ekshop, Sohoz, SSL Wireless, Biddhut, and Registry were present in the e-Cab Youth Summit.
The e-Commerce Association of Bangladesh (E-Cab) and start-up support organisation Breakbite organised the event. Also, as partners, A2I, Ekshop, Dhaka Live, Smart B, Next Digital, BD Tour Planner, Hotel The Cox Today and The Daily Star were present.
Certificates were presented to the participants at the end of the ceremony.