How easy is it to be a startup in Bangladesh?
Over the past decade, Bangladesh's startup culture has grown in prominence, with an increasing number of founders and investors actively contributing to the ecosystem. The country's rapid economic growth, combined with a low median age demographic, has resulted in a significant transition in this industry in recent years. The country has the ninth highest mobile penetration and fifth highest internet user base in the world. Its growing middle class is projected to reach 34 million people in the next three years, making their purchasing habits and behaviour the primary focus for most startups. According to Lightcastle Partners, the country has over 1,000 active startups, with approximately 200 new ones being added each year.
As part of a Bangladesh-based venture capital firm dedicated to accelerating the growth of this industry, we've seen the government take a more proactive role in supporting this ecosystem in recent years. The most notable contribution was the establishment of Startup Bangladesh Limited, a venture capital firm with Tk 100 crore in funding. Furthermore, in the national budget for 2022-23, they introduced tax breaks for startups while also investing in high-tech parks across the country to attract more foreign investors.
However, there is still room for growth. In the Ease of Doing Business Index, Bangladesh ranks 168th out of 190. Despite the fact that the World Bank has discontinued its use of this index, it is critical for understanding the lack of foreign investment in the startup ecosystem. Bureaucratic issues, infrastructure shortfalls, high tax rates, and difficulty accessing finances all impede the ease of doing business in the country. With the government's emphasis on digital Bangladesh, it is critical to develop a startup-oriented framework that offers numerous incentives to ecosystem actors and startups to simplify their operations, lower operational costs, and streamline access to debt financing.
These issues arise in the context of startups due to a disorganised policy framework across various ministries. As a result, startups may fail to gain approval from certain ministries because they lack an adequate pre-existing structure to grant approval to such needs. Furthermore, the protection of intellectual property is limited, which hurts startup founders who want to capitalise on their companies' unique selling proposition. This is reflected in Bangladesh's ranking of 116th in the Global Innovation Index, while neighbouring India and Sri Lanka are 46th and 101st, respectively. These factors are making it increasingly difficult for new businesses to thrive.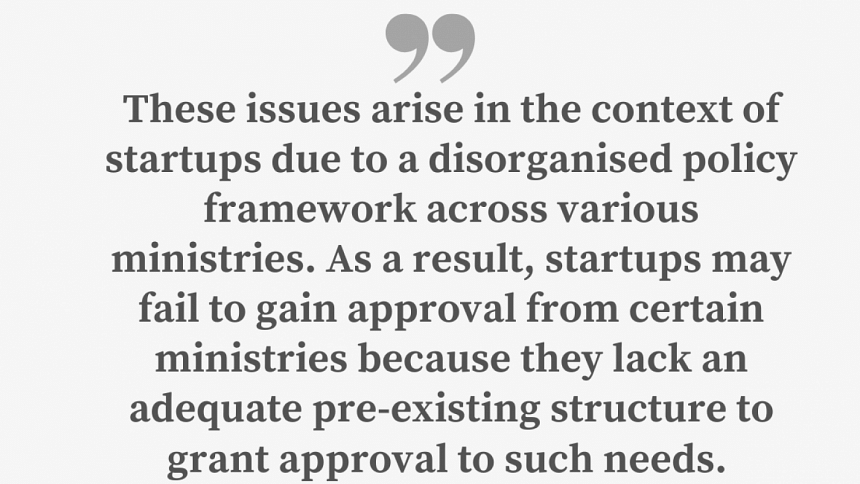 The supporting presence of local firms and financial institutions can also help to accelerate the startup ecosystem. City Bank, for example, recently partnered with BKash to offer collateral-free digital loans, allowing users to request up to Tk 10,000 immediately through the app and repay it using their BKash account. This exemplifies how financial institutions can work with startups to improve the lives of the general public, particularly marginalised communities and small enterprises. Existing healthcare service providers have benefitted from the proliferation of information technology provided by startups in areas such as pharmacy delivery, telemedicine, and preventative healthcare. However, experienced healthcare professionals are still needed to collaborate with health-tech startups and providers to create more opportunities, redefining the industry and increasing efficiency.
Collaboration with national and international incubators, innovation hubs and accelerators around the world can also help improve the ecosystem as it develops, and strengthen strategies to address any operational difficulties a startup could face. Connecting with global investor networks and venture capital firms will also significantly contribute to the democratisation of industry expertise and knowledge.
Overall, our findings indicate that there is still a significant need for local angel investors and venture capitalists. Pakistan and Vietnam have capitalised on investors maximising their role in the early growth of startups. It is also difficult for founders to rely on traditional sources of funding such as loans due to the added risk. Founders should provide impact-driven solutions to penetrate and disrupt, which then creates additional spill-overs for the ecosystem to benefit from. Because capital is globally competitive, it is critical for our ecosystem actors to take such steps in order to successfully leapfrog our neighbours.
Ahnaf Shahriar is founder of Flagship Ventures, a venture capital firm in Bangladesh.