Paragon Group, Aadi ink deal to penetrate global e-commerce market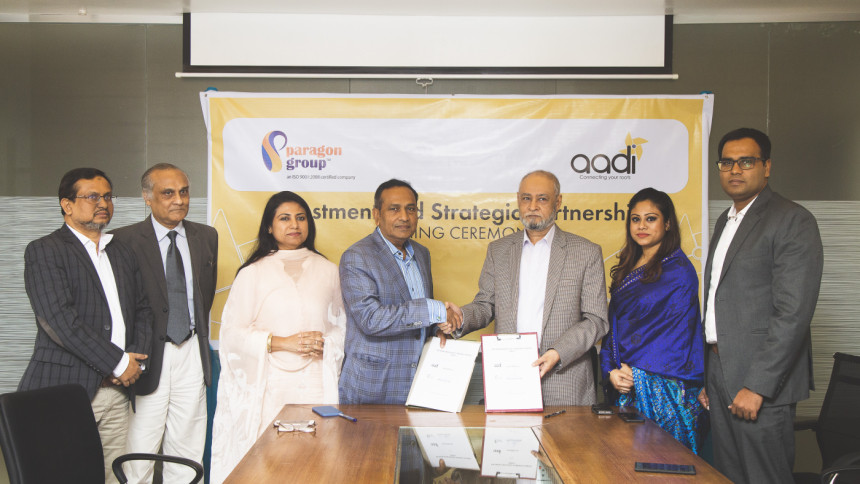 Paragon Group and Aadi BD Ltd have signed an agreement to take Bangladesh in the next level through cross-border e-commerce.
Aadi, an online marketplace (aadi.com.bd) focused on selling local products outside Bangladesh has recently raised formal investment to cover the angel round funding requirements of the company after operating a year in the market.
Paragon Group held an official signing ceremony in its corporate headquarters to close this round of funding and declare the partnership between the two companies.
During the signing following people were present: Moshiur Rahman, chairman & managing director, Paragon Group, Yasmin Rahman, director, Paragon Group, Kazi Nazrul Islam, chairman, Aadi, Fatima Begum, managing director & CEO, Aadi, ANMA Shahin, director, Aadi.
Upon this signing Paragon group is now holding 35 per cent equity of Aadi.
Aadi is focused in promoting the manufacturing strength of Bangladesh at a b2c level globally. It aims to utilise our strength in RMG, jute and leather industry by facilitating our retailers, manufacturers and artisans to sell directly to the global market without incurring additional cost.
Launched in December 2018, Aadi is currently focused on removing all the barriers of international selling for the local fashion retailers and manufacturers. Aadi already has 100+ partners in its platform who are selling globally through Aadi's online marketplace.
Aadi has already built up strong strategic partnership with DHL as their logistics partner and can deliver any product to 220+ countries within 3-5 days. For facilitating international payments, it has partnered up with EBL and is capable of handling all foreign transactions. Although Aadi targets the global market, it has special focus on NRB (Non-Resident Bangladeshi) community to meet all their shopping demands from Bangladesh.