Govt bus service for school students to be launched in Ctg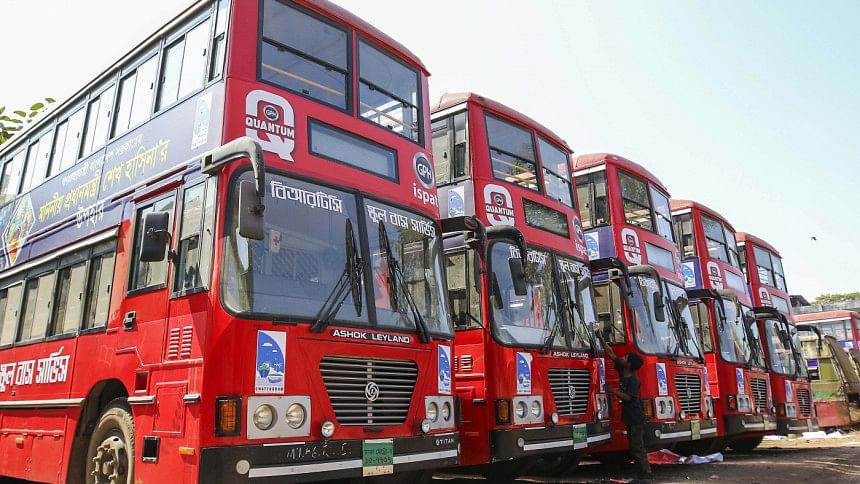 Bangladesh Road Transport Corporation (BRTC) is going to launch 10 buses for the students of Chattogram next week.
Only school and madrasa students will be able to travel on these buses when traveling to and from their educational institutions. The buses will initially operate on two routes in the city in morning and afternoon.
For traveling on buses, a student has to pay Tk 5 for each trip. There will be two boxes on each side of the buses, called honesty boxes. Students will put their fare into these boxes and get down to their respective destinations, said BRTC officials.
To travel on buses, students have to show the identity card of their respective institutions.
BRTC officials said all buses have already been fully prepared for the operation. BRTC's Chattogram Bus Depot Manager Ziaur Rahman told The Daily Star that during the students' movement demanding safe roads last year, the prime minister pledged to launch a bus service for the benefit of the students.
In light of that commitment, initiatives have been taken to launch these buses, he said.
He said buses under the first route will leave from Bahaddarhat and go to New Market via Baduratala, Muradpur, Chawkbazar, Gani Bakery, Jamalkhan, Cheragi Pahar, Nandankanan and Amtal. Similarly, leaving New Market via Amtal, Nandankanan, Cheragi Pahar, Jamalkhan, Chawkbazar and Baduratala, the buses will go to Bahaddarhat.
Bus under the second route will go to Agrabad via Oxygen, Muradpur, Sholashahar Gate No 2, GEC Intersection, WASA Intersection, Tiger Pass, Dewan Hat and Chowmuhani. Similarly, starting from Agrabad, the buses will go to Oxygen via Tiger Pass, WASA Intersection, GEC Intersection, Sholashahar Gate No 2, Muradpur and Atuar Depot.