BRTC staff form human chain, demand arrears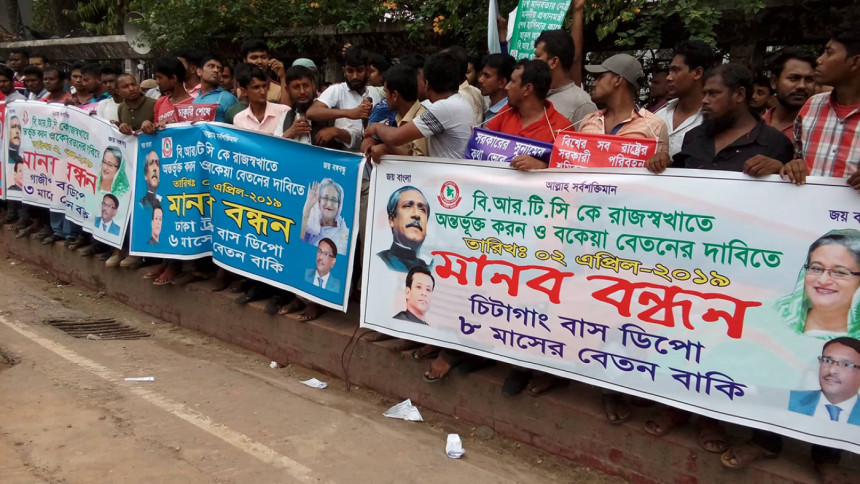 BRTC drivers and staff of 18 depots across the country formed a human chain in front of Jatiya Press Club in Dhaka today to press home their ten-point demand including payment of their arrear and nationalisation of their job.
Around 200 staff and drivers of Bangladesh Road Transport Corporation (BRTC) participated in the human chain programme from 10:30am to 12noon, reports our correspondent from the spot.
Employees of Rangpur BRTC bus depot did not get their arrear for 13 months, while arrears of the staff of other depots remain pending from three to thirteen months.
BRTC employees of the Joar Shahara depot at the beginning of this year went on a strike demanding the same.
Some 3,500 BRTC employees, including drivers, get salaries and other benefits like that of a government employee. But under the current system, the salaries and benefits of a depot employee has to be paid from the earnings of that particular depot.
The lion's share of the depots' earnings comes from leasing out buses to private entities and organisations, including educational institutions. The depots provide the drivers, the fuel, and look after vehicle maintenance.
High officials of the BRTC said the depots have been struggling to pay the employees after the government implemented a new pay scale in 2016.
Workers, however, claimed that corruption of some BRTC officials, including those running the deports, was to blame for their sufferings.