Nepal's tourism campaign mistakenly promotes Thai photo in London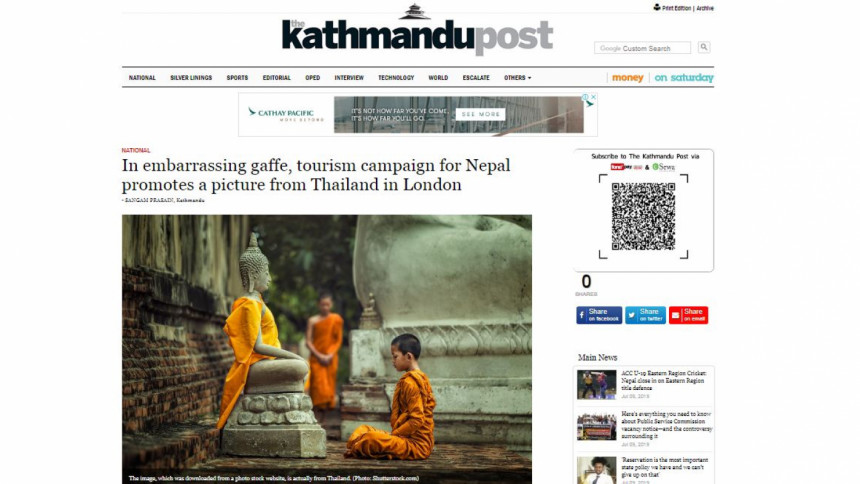 Earlier this week, a series of posters promoting the upcoming 'Visit Nepal 2020' appeared in the Underground (Tube) stations in London.
The posters carried images of tall mountains, white water rafting, temples, and monks praying in front of Buddha statues -- except that last image wasn't from Nepal; it was from Thailand.
Social media was quick to pick up on the goof-up.
Gary Wornell, a former ceramics tutor who is also a development consultant in Nepal, wrote on his Facebook page: "Very funny London Underground advertisement for Visit Nepal 2020. Theravada monks and Buddhist statue from Thailand. Crazy."
Others commented on the lack of oversight at the Nepal Tourism Board, the entity that promotes tourism in Nepal.
"They really used a stock image of Thailand to promote visit Nepal 2020 -- this is embarrassing. Thank goodness they've a whole new branding team because this is straight up humiliating," said one user on Twitter.
"We are not aware of how those particular promotional posters appeared in the London Underground," Durga Bahadur Subedi, Nepal's ambassador to the United Kingdom, told the Post over the phone. "We have asked the Nepal Tourism Board to clarify how this happened."
However, the tourism board said it was not responsible for the posters.
In an interview with the Post, Deepak Raj Joshi, chief executive officer at the Nepal Tourism Board, said that they were not involved in any promotional activities in London.
"All photos were taken from Shutterstock and one of them went wrong," said Joshi. "We've made inquiries and learned that the Visit Nepal 2020 secretariat was behind the promotions." The tourism board has raised the issue with the authorities concerned and the offending poster has already been replaced, he said.
The secretariat, led by industrialist Suraj Vaidya, has targeted the London Underground, primarily stations around venues for the ICC World Cup, for promotion of next year's tourism campaign, Joshi said.
A designer from London had selected photos and sent it to the secretariat for final approval.
"As the secretariat is staffed by new people, they overlooked the photos and approved them. However, to avoid such mistakes, we have asked the secretariat to coordinate with us going forward," said Joshi.
The Post's attempts to reach Vaidya for comment were unsuccessful as he is currently in France.
The picture of the monks was traced to Shutterstock, an American stock photography company, whose caption reads 'Novices monk vipassana meditation at front of Buddha statue'. The keywords for the image include 'Nepal' and 'Nepalese'.
The advertisement with the erroneous picture has been changed following criticism on social media.
Copyright: The Kathmandu Post/ Asia News Network