No bomb found in Malaysian Airlines flight: Dhaka Airport authorities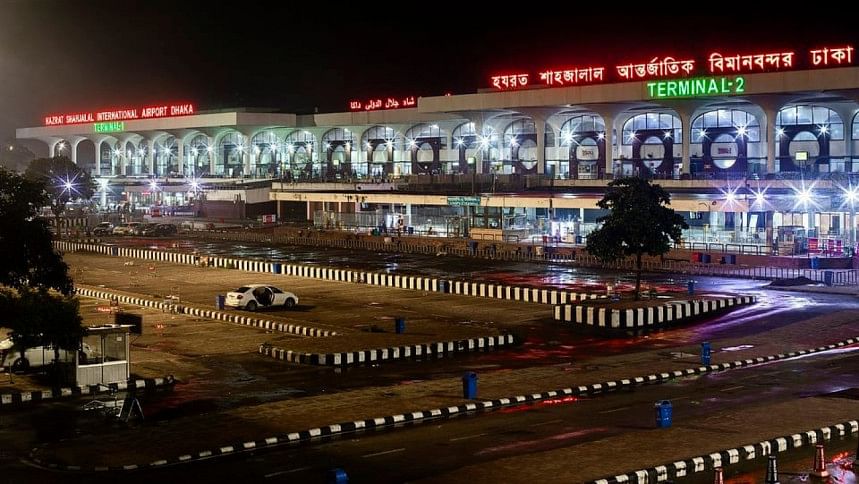 A regular flight of Malaysian Airlines made an emergency landing at Hazrat Shahjalal International Airport (HSIA) last night, reportedly carrying explosives or bomb-like objects, prompting authorities to call out army commandos for a thorough search, officials said today.
With 135 passengers on board, flight MH-196 coming from Kuala Lumpur landed in Dhaka at 9:38pm last night amid tight security at the airport and the runway, said HSIA Executive Director, Group Captain AHM Touhid-Ul Ahsan.
"We didn't find any explosive or bomb-like object inside the aircraft or in any passenger's luggage as the search was completed at around 1:00am," Touhid-ul Ahsan told a briefing.
He said, the airport authorities received information that some passengers might be carrying bombs or bomb-like objects in the aircraft.
After getting the information, the respective team sat in an emergency meeting and took all precautions for the emergency landing of the aircraft.
"Shortly, we came to know that the information was not correct," said Touhid.
"Even then, we did not take any chance and took all measures as per the standard operating procedure and informed all security agencies, Army and Navy commandos, Armed Police Battalion, Rab members and firefighters for a thorough search," he added.
After completing a search of the aircraft, cabin and cargo luggage, the aircraft was declared safe by the commanding officer of the Air Force.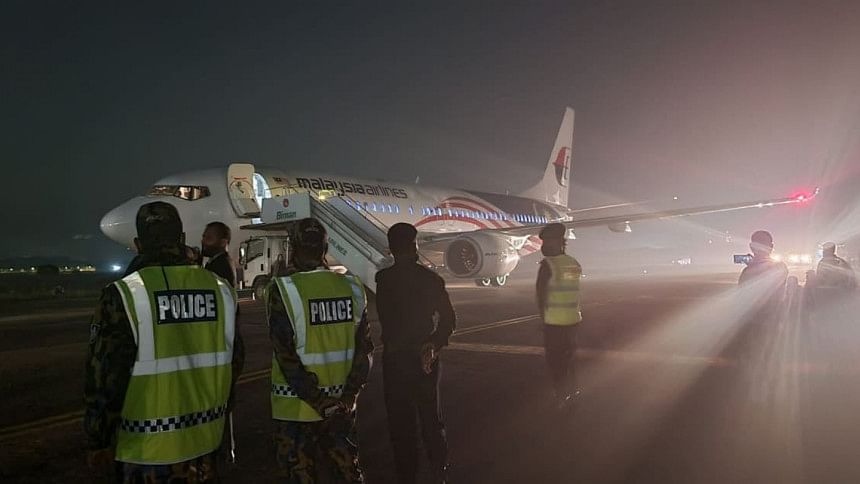 "The passengers went through a body search and their luggage are being thoroughly searched as well," an airport official said.
Witnesses said army bomb disposal units along with many military commandos and air force personnel were seen at the airport while five firefighting units, ambulances and members of Rapid Action Battalion, armed police were deployed at different places of the airport.
Dewan Azad Hossain, duty officer of fire service control room, told The Daily Star that they received a phone call from the Air Traffic Control, HSIA at around 9:00pm that an aircraft on the way to Dhaka Airport might have a bomb in it.
The ATC officials requested the control room to send fire service units at the airport, he also said.
"On the instruction of the airport officials, five units of fire service waited at the airport gate," added Dewan.
Although we reached the airport gate, we were not allowed to enter the airport as the aircraft had already been taken to the Bangabandhu airbase of the Air Force at Dhaka Airport.
After the suspension of flight operation for around three and a half hours since 9:00pm last night, normal operation at the HSIA resumed around 12:45am today, sources at the airport said.
"No one was detained in this connection, Morshedul Alam, deputy commissioner, Uttara Division of Dhaka Metropolitan Police, told The Daily Star.