Biman likely to fire two engineers
Probe finds them responsible for 2 planes colliding last year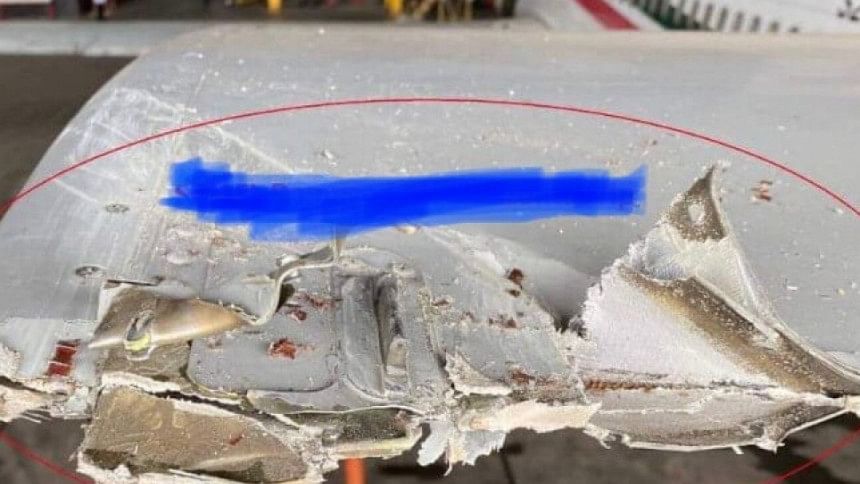 Biman Bangladesh Airlines is likely to dismiss two engineers responsible for the collision of two planes at a hangar in Hazrat Shahjalal International Airport last year.
The decision was made after an investigation found that Mainul Islam and Salim Hussain Khan were involved in the mishap that caused the planes to remain grounded for weeks, members of the investigation committee said.
Biman management gave the engineers six days to explain why they should not be dismissed.
"If their reply is not satisfactory, they will be dismissed," a top official told The Daily Star, wishing anonymity.
The investigation found that the nose radome of a Boeing 777-300ER hit the outboard tip of the horizontal stabiliser of a Boeing 737-800.
"After legal investigation and departmental proceedings, the charges against Mainul Islam and Salim Hossain Khan have been proved beyond doubt. The Biman authority has decided to dismiss them from the service as per the service regulation," the committee said in its report.
Biman last year suspended at least five officials for negligence in duty.
In one incident, a principal engineer and two other officials were found responsible for the collision of two planes at Biman's hangar in HSIA on July 3, last year.
It left the wings of a Boeing 787 and a Boeing 737 damaged.