'Count Every Vote'
Arrests made as anti-Trump protesters rally in Oregon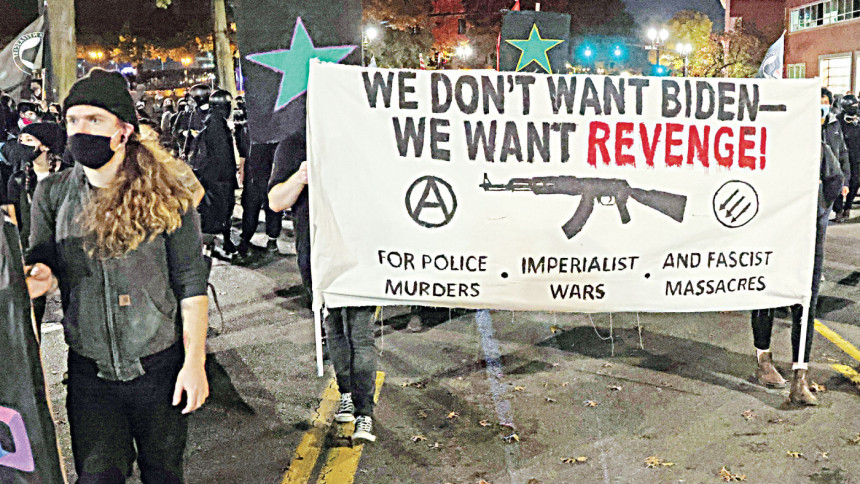 Police in Portland declared riots, arrested 11 people and seized fireworks, hammers and a rifle, as Oregon Governor Kate Brown activated the National Guard in response to protests on the night after voting in the US presidential election. 
The protesters involved in the clashes had earlier attended a 300-strong peaceful rally in a downtown park hosted by a coalition of anti-capitalist groups featuring lectures, music and slogans including "The Vote is Over. The Fight Goes On."
Rally organizer Evan Burchfield told AFP the city had been using the police as a "tool of political repression" for years and that "nothing is actually going to change" if Joe Biden is elected.
Another group of protesters who had gathered by Portland's river Wednesday vowed to "protect the results" of Tuesday's close-run election and held banners proclaiming "Count Every Vote."
Several of the demonstrators were openly carrying firearms, including rifles, and one anti-racism and anti-imperialism banner showed an image of an assault rifle, with the slogan "We Don't Want Biden. We Want Revenge."
In New York, police said they had made about 50 arrests in protests that spread in the city late on Wednesday.
Demonstrations, mostly small and peaceful, were held in cities across the United States by anti-Trump supporters.  Four arrests were made in Denver as protesters clashed with police, the Denver Police Department said.