The data-driven future is here
The startup revolution is in full swing in Bangladesh. The amazing young minds of this country are venturing into all sorts of sectors. One of the promising startups we have seen come out of Grameenphone Accelerator's is Cramstack, a data company with its very own business intelligence and analytics platform. To find out more about what they do, we spoke to the CEO and co-founder of Cramstack, Mir Sakib.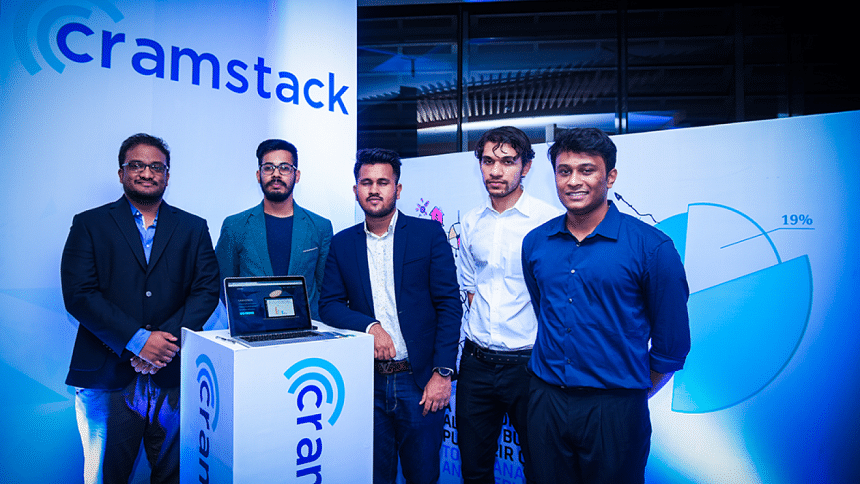 What's the story behind Cramstack? How did it start?
I worked at a well-known company before starting Cramstack. When I was working there, I saw that the maintenance of data in this country was questionable. People either work with excel or manually input the data. Many companies store their massive chain of data on paper. When executives take any business decisions, they put heaps of files in the table. This did not seem very efficient or really data-driven so I wanted to make a platform that helps making quicker and more effective data-driven decisions. I left my job and started working with two of my friends to create a Business Intelligence (BI) tool, and that's how Cramstack began!
Read more: Want to pick up data science? Brush up on your math first
What's a Business Intelligence tool?
BI tools essentially derive information from data. Since, enterprise data come in huge volumes, BI tools are used to get proper and timely insights from the data.
We did some research and found out that there are some issues with BI tools as well. Using a BI tool requires multiple layers of interactions. For business executives to get information out of enterprise data, they need to go through IT people to place a request. The IT guys can take multiple days to comply with the requests and still deliver irrelevant information.
Using a regular BI tool also requires technical programming language knowledge. So we thought, why not create a natural language interface for getting data instantly for all sorts of users?
What makes Cramstack different from other data companies?
The difference between Cramstack and any other BI company is that our platform can be used by anyone. It's like Google for enterprise data. There's a search bar and you can search for your data in plain language and get instant queries. We are using an artificial intelligence-driven natural language search bar for data mining. We eliminate all the layers that usual BI tools require. That includes extra personnel, time, and effort.
You can get an upper hand against your competitors by making precise and quicker decisions than others. With Cramstack, executives can do exactly that.
What's the data situation in Bangladesh?
Bangladesh is slowly heading towards automation. Once automation is fully complete, they can make the best out of data-driven decisions. There are a few companies that have digitalised themselves already. We are working with these companies to help them make better business decisions.
The culture in our country is to make executive decisions based on intuition and experience, which is obviously not going to change overnight. We are allowing the companies access to our platform and try it out. They evaluate its use and appeal and then can come on board as our clients.
We know BI has immense potential in the business process and can be a groundbreaking solution for handling data. We are allowing our clients enough time for their businesses to adapt to this new data-driven culture and offering them the opportunity to be the first ones to adopt it.
Read more: Data science: Hottest job of the century
Who do you figure are your competitors?
Right now, we are mainly targeting the South Asian region. Our main competitors are Power BI by Microsoft and ThoughtSpot. These platforms are focusing on the Western regions. That's why we are working in South East Asia, mainly the market in Singapore. In a sense, all data companies are our competitors.
Currently, we  provide a data analytics platform; a data collection platform, so companies can have processed data from the root level; and a data preparation service, turning the unstructured data into structured data. We also have a data science team working on predictive analytics and deep data insights.
What are your future plans?
Our main goal is to be a 360-degree data company. We want to automate data processing and analytics with natural human interaction. We are working to build a data-driven culture in Bangladesh, and in South East Asia, we want to provide a fully automated data processing system in the next five years.