Data science: Hottest job of the century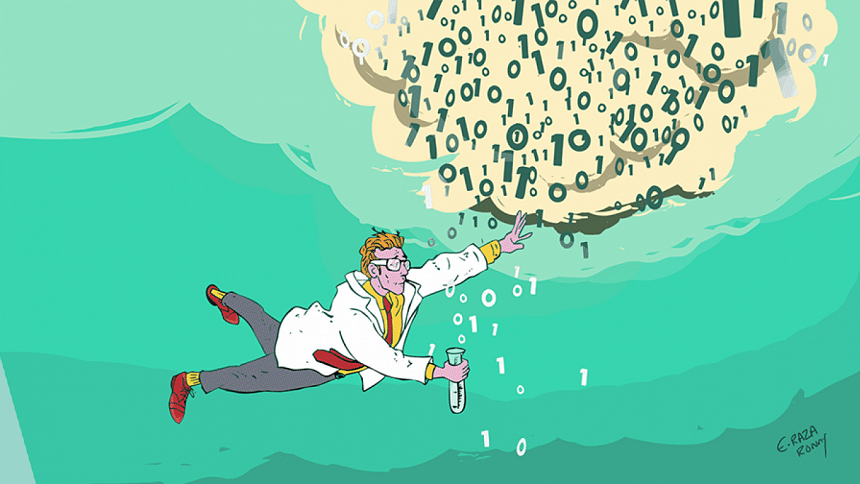 With the rise of ubiquitous computing devices and new age disruptive technologies, big data has become an indispensable part of business. Businesses are producing more data every day and looking deep and hard into it to derive actionable insights. The challenge, however, is collecting, segregating, analysing, and deriving actionable business intelligence and insights from a mire of structured and unstructured data. That is where data scientists come in.
Data scientists are professionals with a strong technical background in computer programming, mathematics, statistics, and in some cases, social science. This range of skills are utilised to work on, clean, organise, and find meaningful insights in large chunks of data, and ultimately, implement them in business.
Uses of data science
Data scientists solve some of the hardest problems that businesses face and they are relevant to almost all realms of business. They look at the root of the problem, or in many cases, opportunities, and come up with strategic and scientific approaches to deal with them. They add value in pretty much every business sector, be it marketing, banking, retail, or manufacturing.
The most obvious use of data science one can imagine is forecasting product demand and optimising the inventory supply chain. On the other hand, a data analyst working with risk can identify fraudulent activity and come up with solutions to prevent it in the finance and banking sector. The use of data and the business intelligence and analytics associated with it is so diverse that there are success stories ranging from airlines to restaurant business.
Other data jobs
Data scientists may be the jack of all trades in the field, but there are other opportunities as well.
Data architects develop underlying architecture to analyse and process data in the way the organisation needs it. A data architect creates the blueprint of a data science project by integrating, centralising, protecting, and maintaining the source of data from a wide range of data management systems, and technologies.
There are data engineers, the driving force behind the design, construction, implementation, and maintenance of highly scalable data management systems. Data engineers build high-performance algorithms, prototypes, and conceptual models according to the blueprint designed by data architects.
Data analysts are detectives, expected to collect numerical information and present the result in a meaningful way—usually in the form of graphs, charts, reports or dashboards. Identifying trends and creating predictive models are among the key responsibilities that a data analyst is expected to take care of.
These data-related responsibilities are exciting new jobs worldwide. The wave of big data has even hit our country. We can see various business intelligence, analytics, and other data and research startups companies coming up in our backyard.
Demand for data scientists
As data is as good as gold, and the world is witnessing an incredible demand for data science professionals. No wonder it's one of the hottest jobs in the States with a mean salary of over USD 90,000 per year at entry levels!
As the big data scene starts to explode, companies are worried about the shortage of skilled professionals and their fear is real. A research by McKinsey has reported, "By 2018, the United States will experience a shortage of 190,000 skilled data scientists, and 1.5 million managers and analysts capable of reaping actionable insights from the big data deluge."
It's not just the US; the whole world feels the need for data professionals. There simply aren't a lot of people with their combination of scientific background, and computational and analytical skills. Companies in Bangladesh will be hunting for data scientists in the days to come, so if you think you've got what it takes, this an exciting, new field waiting to be explored.