Texas school Tragedy
Trump bats for guns at NRA
Police admits 'wrong decision' not to breach door during shooting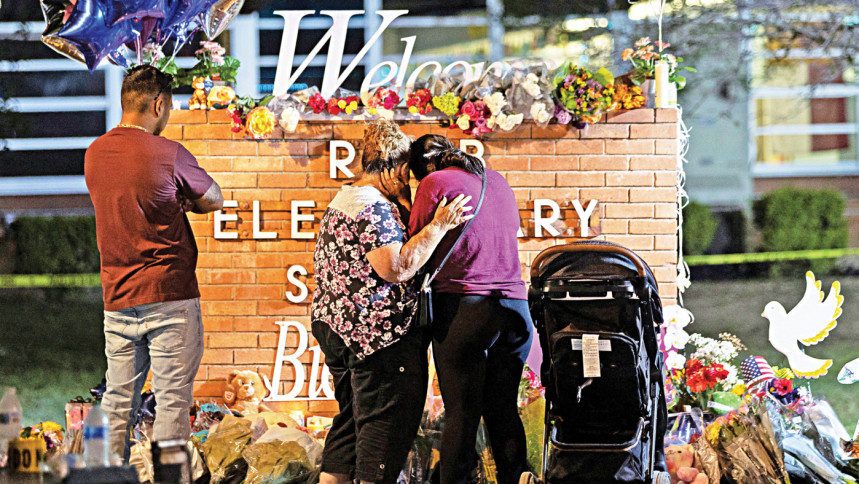 Former US president Donald Trump rejected calls for tightened gun controls Friday following the Texas school massacre, saying decent Americans should be allowed the firearms they need to defend themselves against "evil."
"The existence of evil in our world is not a reason to disarm law-abiding citizens... The existence of evil is one of the very best reasons to arm law-abiding citizens," he told members of the National Rifle Association.
Trump's remarks came as he headlined an NRA event in Houston, three days after a gun massacre at a Texas elementary school reignited the tinderbox debate about US gun control.
An 18-year-old gunman, Salvador Ramos, with a legally-bought AR-15-style rifle killed 19 children and two adults at Robb Elementary School in Uvalde, Texas, on Tuesday, marking the deadliest school shooting in the state's history.
During the shooting, frantic children called 911 at least half a dozen times from the Texas classrooms, pleading for police to intervene, as some 20 officers waited in the hallway nearly an hour before entering and killing the gunman, authorities said on Friday.
"He's in room 112," a girl whispered on the phone at 12:03 pm, more than 45 minutes before a US Border Patrol-led tactical team finally stormed in and ended the siege.
The on-site commander, the chief of the school district's police department in Uvalde, Texas, believed at the time that Ramos was barricaded inside and that children were no longer at immediate risk, giving police time to prepare, according to Colonel Steven McCraw, director of the Texas Department of Public Safety.
"From the benefit of hindsight where I'm sitting now, of course, it was not the right decision," he added.
US firearms makers produced over 139 million guns for the commercial market over the two decades from 2000, according to a new government report.  The US racked up 19,350 firearm homicides in 2020.