2 hurt in Amsterdam station stabbing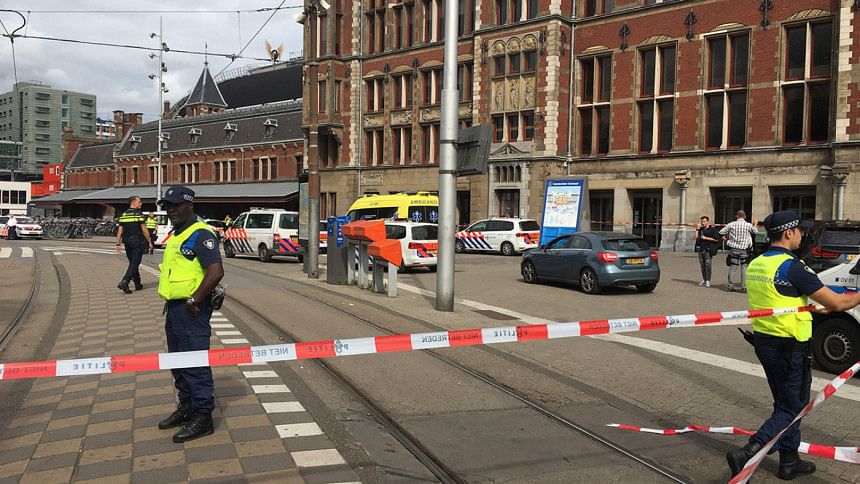 Two people were stabbed at Amsterdam's busy Central Station on Friday before the alleged attacker was shot and wounded, Dutch police said.
"A suspect has been shot after a stabbing incident at Amsterdam Central Station," Dutch police said on Twitter.
It is not known at this stage whether the incident is terror related.
Police told Dutch media that the assailant's motive was unknown, and later tweeted that they were "looking at all scenarios."
Initially, police indicated that the station -- which is located in the Dutch capital's historic canal-ringed city centre -- had been evacuated and closed off to all rail traffic.
However, police shortly afterwards issued an update to say there was "no talk" of a complete evacuation and that only two platforms had been closed off to passengers.
The two wounded people and the knife-wielding suspect were taken to hospital, Amsterdam police said, although their condition was not revealed.
A witness told the local Amsterdam AT broadcaster that the attacker was a man in his 30s.
One of the victims is believed to be a young foreign man who was stabbed in the hand.
Multiple police vehicles and ambulances were seen outside the large red-brick station, while red and white police tape cordoned off an area.
Security officials and police officers stood guard wearing high-visibility vests.
Images posted on social media by people at the station showed security guards ushering passengers towards exits and paramedics arriving at the scene with stretchers.
The Netherlands has so far been spared from the slew of terror attacks which have rocked its closest European neighbours in the past few years.
But amid a number of scares and reports that people linked to some of the attacks may have crossed briefly into the country, concerned top Dutch security and intelligence officials have stressed that the threat level is substantial.
Around 250,000 people travel through Central Station every day, according to statistics provided by the Amsterdam.info travel guide.
Trams, which leave from the front of the station were not running, police said, adding that more information was not immediately available.