Southern Ukraine Front: Russia reports heavy fighting
Claims to have destroyed 21 armoured vehicles; Kyiv silent on counterattack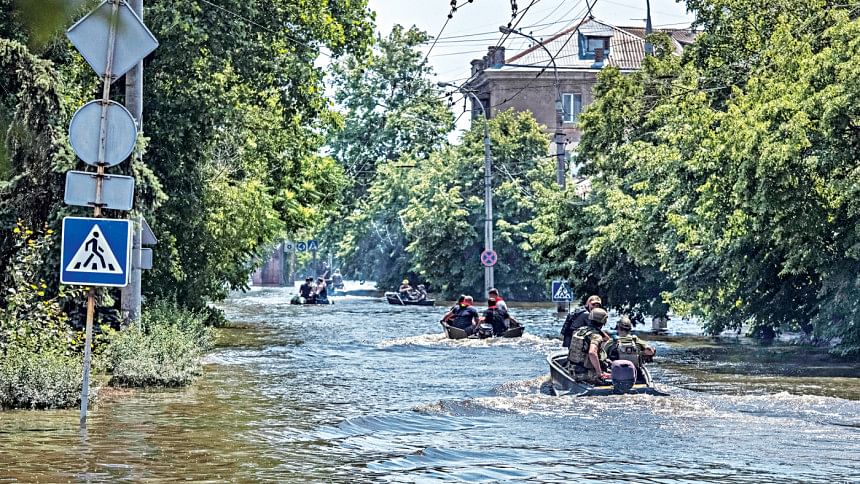 Russia reported heavy fighting along the front in southern and eastern Ukraine yesterday, while Kyiv maintained a strict silence about its long-anticipated counterattack.
With virtually no independent reporting from the front lines, it was impossible to assess the degree to which Ukraine's operation was under way or whether it was having success in penetrating Russian defences to drive out occupying forces.
Ukraine's counter-offensive is ultimately expected to involve thousands of Ukrainian troops trained and equipped by the West. Russian President Vladimir Putin yesterday said Ukraine had begun a major offensive against Russia's army but that Ukrainian forces had failed to achieve their objectives despite intense fighting over at least three days.
Pro-war Russian bloggers reported intense battles on the Zaporizhzhia front near the city of Orikhiv, around the mid-point of the "land bridge" linking Russia to the Crimea peninsula, seen as one of Ukraine's main potential targets.
The Russian army claimed to have destroyed more than 21 armoured vehicles in the past 24 hours. Such claims are unverifiable.
Ukraine generally forbids independent accredited journalists from reporting on its side of front lines during offensive operations.
The initial days of the counter-offensive have been overshadowed this week by a humanitarian disaster after the destruction of the Kakhovka dam holding back the waters of the Dnipro River that bisects Ukraine.
Thousands of people have been forced to evacuate homes flooded in the war zone, vast nature preserves have been wiped out and the destruction to irrigation systems is likely to cripple agriculture across much of southern Ukraine for decades.
Kyiv said yesterday it had intercepted a phone call proving that Russian forces in control of the dam had blown it up. Moscow says Ukraine sabotaged it.
In its few comments, Ukraine has reported gains of territory in the east around the city of Bakhmut, which Russian forces captured last month after nearly a year of the deadliest ground combat in Europe since World War Two.
But Kyiv has said virtually nothing about the southern front, widely assumed to be the focus of its main assault as it tries to push towards the coast and cut Russia's access to Crimea.
In his nightly video address, delivered on a train after a visit to the flood zone in the south, President Volodymyr Zelensky thanked Ukrainian troops and repeated earlier claims of success in Bakhmut, but gave no further account.
In the latest air strikes, Ukraine said it had shot down four of six missiles overnight. The interior ministry said one person had been killed, three were wounded, and four buildings were destroyed from falling debris.
The White House said yesterday that Russia appeared to be deepening its defense cooperation with Iran and had received hundreds of one-way attack drones that it is using to strike Ukraine.
A drone struck an apartment building in the southern Russian city of Voronezh yesterday in what investigators called a "terrorist act" on behalf of Ukraine, prompting the regional governor to order a state of emergency.