Russia launches fresh attack on Ukraine
7 killed; Xi departs Moscow after show of solidarity with Putin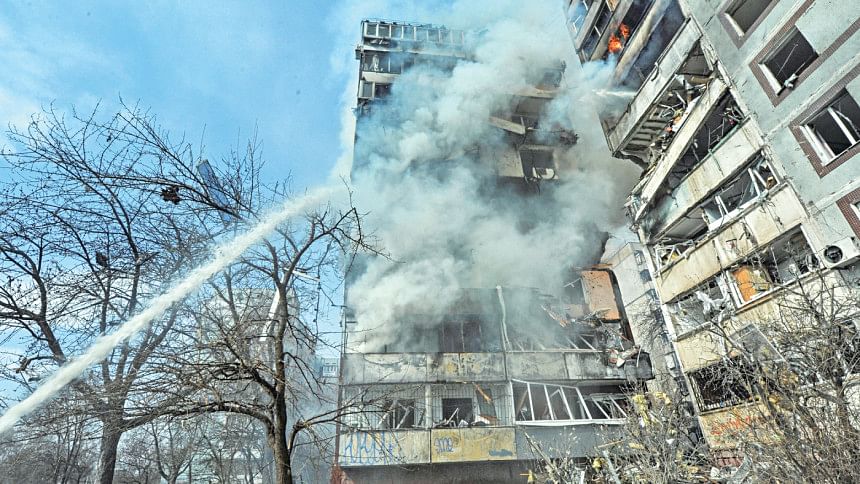 Russia blasted an apartment block in Ukraine with missiles yesterday after launching a swarm of drones at cities overnight, a deadly display of force following a solidarity visit by China's leader Xi Jinping.
Ukraine's President Volodymyr Zelensky tweeted security camera video of a residential apartment block in the southern city of Zaporizhzhia exploding as it was struck with a missile in broad daylight.
Regional authorities said at least one person was confirmed dead and 25 wounded in the strike.
"Right now, residential areas where ordinary people and children live are being fired at," Zelensky wrote. "This must not become 'just another day' in Ukraine or anywhere else in the world. The world needs greater unity and determination to defeat Russian terror faster and protect lives."
In Rzhyshchiv, a riverside town south of the capital, at least six people were killed and 18 others were taken to hospital when two dormitories at a college were struck by a drone. More than 100 workers and 28 vehicles were deployed to the scene, and the search for survivors was continuing, authorities said.
Sirens blared across the capital and swathes of northern Ukraine, and the military said it had shot down 16 of 21 Iranian-made Shahed suicide drones.
In an apparent reference to the Chinese president's visit to the Russian capital, Zelensky tweeted: "Every time someone tries to hear the word 'peace' in Moscow, another order is given there for such criminal strikes."
Zelensky visited troops near the front line yesterday. His office released video of him handing out medals to soldiers, which it said was filmed near Bakhmut.
Hosting Xi in Moscow this week was Russian President Vladimir Putin's grandest diplomatic gesture since he launched the war a year ago and became a pariah in the West.
They "shared the view that this relationship has gone far beyond the bilateral scope and acquired critical importance for the global landscape and the future of humanity," said a statement released by China.
Xi departed telling Putin: "Now there are changes that haven't happened in 100 years. When we are together, we drive these changes."
"I agree," Putin said, to which Xi responded: "Take care of yourself dear friend, please."
In an intelligence update yesterday, Britain's ministry of defence said Moscow's Bakhmut assault could be running out of steam. A Ukrainian counterattack in recent days west of Bakhmut was likely to relieve pressure on the threatened supply route to the city, the update said.
There was still a risk the Ukrainian garrison could be surrounded, but there was now "a realistic possibility that the Russian assault on the town is losing the limited momentum it had obtained".
Britain also rejected accusations from Moscow that supplying Ukraine with ammunition made from depleted uranium created a risk of "nuclear collision". Britain on Monday confirmed it was supplying Ukraine with such shells, used by many militaries to penetrate armour due to the metal's high density.
"There is no threat to Russia, this is purely about helping Ukraine defend itself," Foreign Secretary James Cleverly said.