Irregular Migration: Over 62,000 Bangladeshis entered Europe last decade
Reveals Brac Migration Programme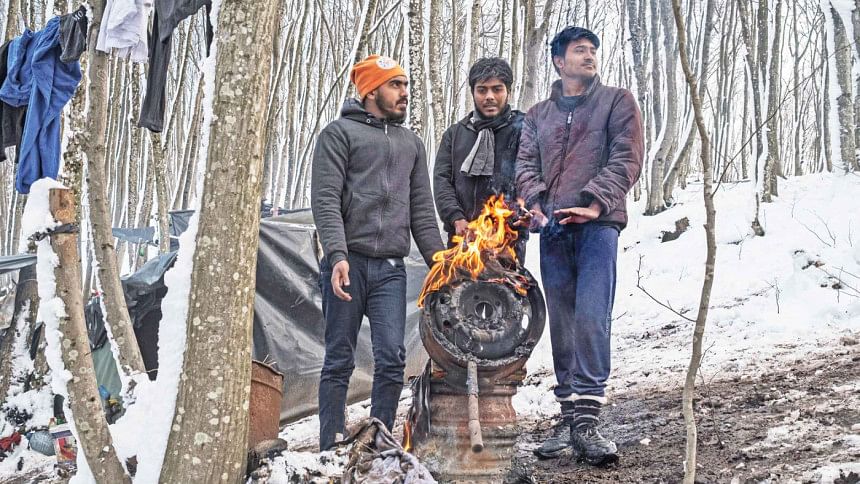 As many as 62,583 Bangladeshis entered Europe irregularly using nine different routes in over a decade since 2009, Brac Migration Programme has revealed. 
Referring to data of Frontex, the European border and coast guard agency, Brac said of the Bangladeshis, 37,198, the highest number, used the Central Mediterranean route.
Also, 17,639 Bangladeshis used Eastern Mediterranean routes (both sea and land), and another 857 used Western Mediterranean routes (both sea and land) to enter Europe between 2009 and May, 2021.
The other four routes are Western Balkan Route, Western African Route, Circular Route from Albania to Greece, and Eastern Borders Route.
Meanwhile, this year till June 30, Bangladesh as a country of origin topped the UNHCR chart in terms of the number of irregular migrations to Europe, with 3,332 arrivals.
Brac Migration Programme shared the grim picture of irregular migration yesterday in a presentation titled "Combating Human Trafficking and Irregular Migration: Situation Analysis, Challenges and Way Forward" during a webinar marking World Day Against Trafficking in Persons 2021.
While Frontex identified nine routes for irregular migration to Europe, Brac Migration Programme Head Shariful Hasan said Brac in its own research has found 18 different routes by which Bangladeshis have migrated to Europe irregularly.
Two of such routes are Bangladesh-India-Pakistan-Afghanistan-Iran-Turkey-Greece and Bangladesh-Dubai-Bahrain-Turkey-Libya-Italy.
Shariful said about two lakh Bangladeshis went to Dubai on visitor visa in the last two years. Later, many of them opted to irregularly migrate to Europe.
Besides, about five to six lakh Bangladeshis were deported by host countries since 2008, with 2.23 lakh deportations, the highest, from Saudi Arabia, he added.
Bangladeshis aged between 31 and 35 were most likely to irregularly migrate to Europe, Shariful said.
He said Brac research found that on average, a Europe-bound migrant spent between Tk 10,00,000 and Tk 15,00,000, whereas the average cost of irregular migration to Malaysian and Middle East was between Tk 1,00,000 and Tk 3,00,000.
In an analysis on 2,284 individuals, Libya came on top as a transit country, while Italy, Greece and Germany were preferred countries of destination for irregular migration, he added.
According to Brac Migration Programme, after enactment of Prevention and Suppression of Human Trafficking Act in 2012, as many as 5,738 cases have been recorded in the country under the act.
However, only 71 individuals were convicted in 36 in cases in nine years.
Moreover, only 282 or about four percent of the total recorded cases have been resolved so far, while 5,456 cases were under trial.
The programme recommended that awareness among migrants and their family members about safe migration should be increased.
Besides, it stressed for identifying and locating trafficking victims and creating strong relationship between destination and source countries to repatriate survivors and take legal action against traffickers.
It also stressed that sustainable reintegration services should be ensured for returnees.
Addressing the webinar as chief guest, National Human Rights Commission (NHRC) Chairperson Nasima Begum urged everyone to take a strong position against human traffickers.
She said officials concerned have to be proactive and sufficiently aware, so that offenders cannot go unpunished.
Shahidul Alam, director general of Bureau of Manpower, Employment and Training, stressed for strong monitoring at the country's immigration to fight human trafficking.
He urged NHRC to write about the matter to authorities concerned.
KAM Morshed, senior director of Brac, said human trafficking is a global challenge, while the pandemic has worsened the situation.
Also, in observance of the day, Bangladesh National Woman Lawyers' Association yesterday organised a webinar, where participants stressed for creating awareness among people and ensuring punishment of offenders to successfully fight human trafficking.