The fast disappearing fineness in 'Bangla bhasha'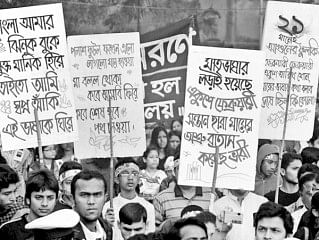 Photo: Anisur Rahman
Globally acknowledged 21st February, as the International Mother Language Day, we have now taken upon our shoulders the responsibility to preserve Bangla, as the finest and most polished language worldwide. Not only that, we have to bear in mind the sacrifice of the noble souls of Abul Barkat ,Abdus Salam , Abdul Jabbar, and Rafiquddin .
However far we go, we have to always look back and remember the movement and the people involved or else we will be labelled as a nation …ungrateful ! 21st February was proclaimed by UNESCO' s General Conference in 1999 as International Mother Language Day .It has been observed every year since February 2000 to promote linguistic and cultural diversity and multilingualism, because languages are tangible and intangible heritage. It has been commemorated in Bangladesh since 1952 when a number of students of the University of Dhaka and Dhaka Medical Colleage were killed by Pakistani police in Dhaka during .the Bengali language movement protests. on 21st February 1952(8th Falgun,1358 Bengali calendar) all of a sudden in the capital city of Dhaka there was a call for provincial strike, there was firing in spite of the fact that it was a peaceful protest. This was only the beginning……
To make sure that they have not laid their lives in vain it should be our mission to give shape to this movement in our own special way, i.e. by improving and expanding it .Unfortunately though, instead of trying to uplift the language, we are simply distorting it! Pronunciation is one solid attempt to elevate a language which we are failing to do. In an attempt to make easy the language we have stopped talking in the old fashioned, eloquent style! In this way one is being unfair not only to the language as such, but to the memory of the language martyrs too. The metamorphosis is painful, as it seems that the language has been adulterated and locked up in books ! The new generation has twisted it so badly that the richness that was its pride, has been bruised badly. Notice for instance the word 'Chaapa' instead of 'Miththe Kotha', 'Tanki' replacing 'Obhishaar', 'Maira Disi' in place of 'Churi', and the list can go on and on…look at these beautiful romantic lines…..
'Aaj shondey bela,cholo kothaye bhojon korey,hoytoba kono laker dhare,chandni ratey, beriye ashi' replaced by 'Aske bikale,aaye kothaye khaowa maira di , taar por laker pashe boishaa chand dekhi' anyone with a least portion of respect for a polished utterance would fail to respect such violence of the language ! The beautiful Shantipuri 'eshechi' 'giyechi'is becoming obsolete and if you don't want to act alien amongst the young crowd say 'ashsi', 'gesi'. On this auspicious day I would also like to emphasise the fact that any language should not be maligned . Take the use of' the alphabet 'r', it is so common amongst those who try to prove they are highly qualified, pronounce the 'r' fiercely, curling the tongue to its last limit ! To one with a genuine idea of proper pronunciation, it would sound like a foreigner speaking the language for the first time ! The immortal lines 'Amar Bhaiyer Rokte Rangano Ekhushe February/ Ami Ki Bhulite Pari ?' keeps on coming back to mind over and over again, especially when we notice the fineness fading in our language day by day! Remember the days when Uttom wooed Shuchitra and Razzak expressed his deep feelings to Kobori? How soft and romantic it sounded! 'Tumi Je Amar Kobita/ Amar Bashiro Ragini/Amari Shopon Andho Jagoron /Chirodin Tomare Chini.' It really hurts when one hears a mad romantic telling his Valentine in this fashion 'Tui Amar Zaan/ Tui amar Praan /Torey Sara Bachumna Re.' Unlike many languages where you cannot differentiate whether they are wooing or arguing 'Bangla Bhasha' is a very sweet and refined language. We cannot sit back and allow it to be molested in this manner anymore .The time has come when the language should be made to be spoken in a way that people speaking other languages are encouraged to learn our one, only then will our language martyr's souls rest in peace.
The writer is a Social Activist, writes poetry and also articles on travel.