Dr Kamal pleads to PM to release arrested students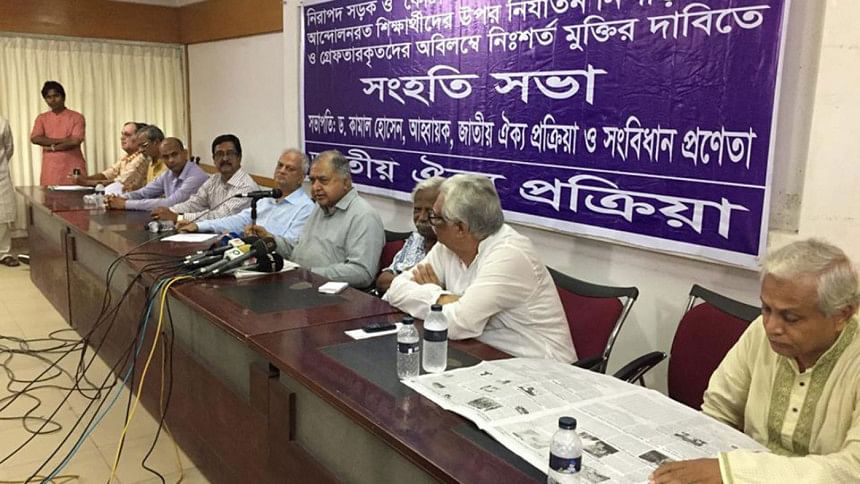 Eminent jurist Dr Kamal Hossain yesterday earnestly requested Prime Minister Sheikh Hasina to release the students who were arrested after quota reform movement and students' road safety protests, before Eid-ul-Azha.
Dr Kamal, also the president of Gono Forum, came up with the remarks while addressing a discussion programme at the Jatiya Press Club. Jatiyo Oikyo Pokriya organised the discussion, demanding unconditional release of the students.
Kamal said he hopes the premier will show generosity regarding the release of 97 arrested students. "What do the students want? They want reform of quota system. Reform is a good word across the world. How the reform can be done well is a matter of discussion. If they [the arrested students] went to Bangabandhu to seek apology, he would do it. I do not except any less from Bangabandhu's daughter," he said.
"You surely believe that I am your well-wisher," the eminent lawyer also said to the PM. "At the age of 81, I am urging you to release the students so that they can enjoy Eid with their family members. I believe you will show such generosity."
He also said he wants to meet the premier demanding release of the students if Sheikh Hasina gives time, otherwise he will send a written request to the PM.
"We did not sit here to oppose you. You can govern the country following the constitution. It is not possible to do any good work defying the constitution. Issues of quota reform and road safety have created problems. It is very much possible to resolve those problems keeping in mind the national and public interests," he added.
Regarding the incident of attack on a student with a hammer in Rajshahi, Kamal said the attacker is psychologically ill and he requires treatment because a physically sound person cannot carry out such a brutal attack.
Speaking at the programme, Zafarullah Chowdhury, founder of Gonoshasthaya Kendra, also echoed him, saying the students should be released before the Eid.
He also expressed concerns over the arrest of renowned photographer Shahidul Alam.