Election Commissioner Mahbub was BNP's choice: Tofail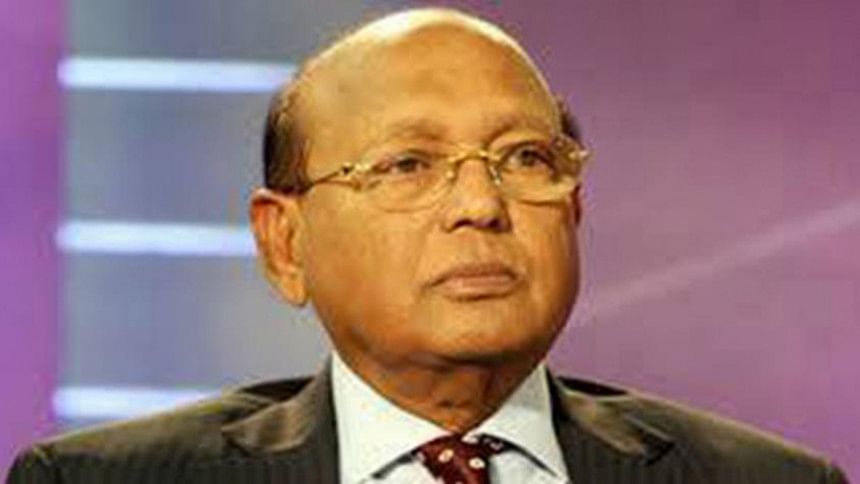 BNP had recommended Mahbub Talukdar's name when the incumbent Election Commission (EC) was formed by a search committee, Commerce Minister Tofail Ahmed said today.
Speaking to reporters after a meeting with an American Department of Commerce delegation, Tofail said, "Although Election Commissioner Mahbub Talukdar's name was recommended by BNP, the commission is neutral and we should not look into who is aligned with which political party".
Tofail added that the formation of the current Election Commission was carried out a search committee, so everybody has been appointed based on their merits, reports UNB.
There may be conflict of opinion in the Election Commission and it is normal to disagree on something, the minister said.
Earlier today, Election Commissioner Mahbub Talukdar had opposed a move to amend the Representation of People Order (RPO) to incorporate the use of the Electronic Voting Machines (EVMs) in the upcoming parliamentary elections to be held at the end of December.
He later walked out of a commission meeting half-an-hour after it started over the planned amendment to the RPO and later sent a 'note of dissent' through an officer.
Tofail also said that the use of EVMs is completely up to the Election Commission's jurisdiction and nobody else's.
"EVMs are used everywhere across the world, even in the United States. It was used in the recent Sylhet and Rajshahi city corporation polls in some of the centres, where BNP had won some and Awami League in the others," the minister said, adding, "since the formation of the Election Commission, BNP and its allies have been trying to make it controversial".
Asked about possible meetings by some political parties to hatch conspiracies, Tofail said that meetings are a party's democratic right, but meeting to hatch conspiracies will not be tolerated by the government or the law enforcers.
He believes the upcoming general election will be held successfully.
On January 31, 2017, a total of 25 political parties, including Awami League and BNP, submitted names to the search committee for reconstituting the Election Commission (EC).
BNP Senior Joint Secretary General Rizvi Ahmed and BNP Chairperson's Personal Secretary ABM Abdus Sattar handed over their party's proposed five names including Mahbub Talukdar's name to the search committee to be considered for the EC formation.
Profile of Mahbub Talukder
Mahbub Talukder took part in the Liberation War in 1971 and joined the Ministry of Information of the Mujibnagar Government, according to the official website of Bangladesh Election Commission.
He was also engaged with the Swadhin Bangla Betar Kendra during the Liberation War.
On January 24, 1972, President Abu Sayeed Chowdhury appointed him as president's special officer (deputy secretary). 
After becoming the President of Bangladesh, Bangabandhu Sheikh Mujibur Rahman appointed Mahbub Talukder as his assistant press secretary (deputy secretary).
During his public service, Mahbub also served as the Director General of Bangladesh Shilpakala Academy.
At the final stage of his service, he was made additional secretary of Parliament Secretariat in 1998.
Mahbub Talukder is also a noted author. He has so far published 40 books on poetry, memoirs and novels, among others. He received the Bangla Academy Award in 2012.