'Youth with disabilities denied rights'
Finds Sightsavers, Brac University research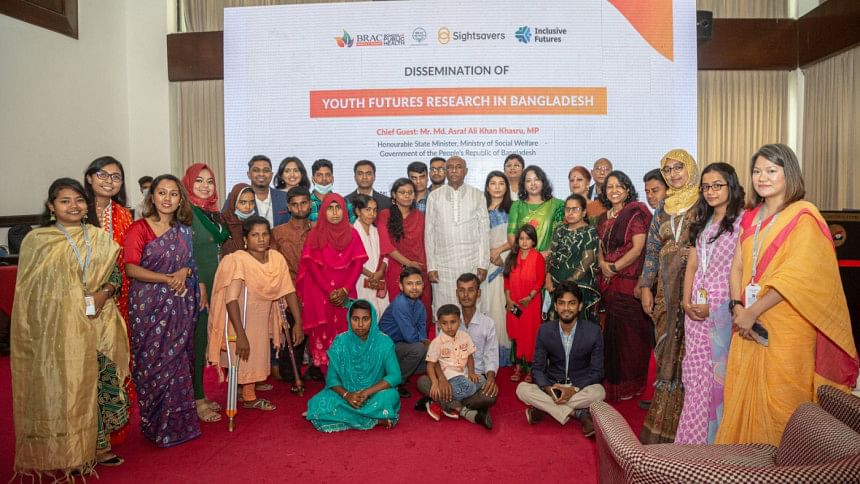 Sightsavers and Brac James P Grant School of Public Health jointly hosted a programme in Dhaka yesterday to reveal findings of a research on young people with disabilities in Bangladesh.
The research looked into the challenges, hope and aspirations of the youngsters, said a press release.
The project, "British Academy Youth Futures Research", captured the experience of young people with disabilities living in urban and rural settings. It was led by a group of young researchers with disabilities.
The research finds that youth with disabilities face multifaceted challenges in terms of equal livelihood, employment and inclusive education, and are often denied their rights mentioned in the Disability Act 2013.
State Minister for Social Welfare Md Ashraf Ali Khan Khasru was present as chief guest, with Prof Malabika Sarker from Brac James P Grant School of Public Health in the chair.
Prof Md Golam Rabbani, chairperson of Neuro-Developmental Disability Protection Trustee Board, attended the event as special guest.
Dr Mrittika Barua and Sayema Akter from Brac James P Grant School of Public Health presented the key findings of the research.
Amrita Rejina Rozario, Sightsavers Bangladesh country director; Dr Sapana Basnet, senior research associate at Sightsavers UK; Khandaker Jahurul Alam, executive director of CSID; and Zahir Bin Siddique, country director of Leonard Cheshire Bangladesh, also spoke on the occasion.