It crumbles like a pack of cards
National mourning today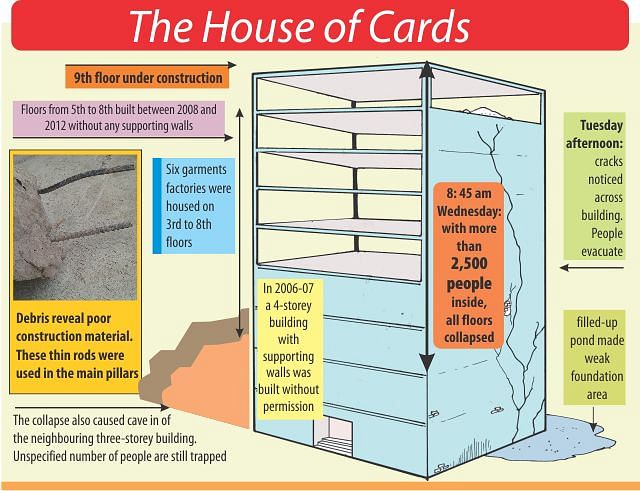 It was 8:45am, a bright glorious morning.
The nine-storey Rana Plaza in Savar was humming with life. Sewing machines whirred; irons steamed. Nobody was much bothered about the cracks that had developed in the building the day before.
In fact, more than 2,000 people working there had forgotten it in the flurry of activity.
Laxmi Sarkar, a sewing machine helper, was working on her machine next to a pillar on the third floor.
Suddenly, she felt that the floor started tipping, as if it had come alive.
The first thing that came to her mind was the cracks in the building.
Laxmi jumped up. As she was running down the stairs, she heard a thunderous sound.
She saw the pillars and beams coming down. Along with many others, she got trapped inside the building.
Hours later, rescuers started pulling out the trapped workers. And eight hundred of them came out alive.
Jharna Begum was gazing out of the window at her garment factory opposite Rana Plaza. Suddenly, she heard a loud noise. She could not believe her eyes, as she saw the plaza crumbling down like a deck of cards.
Within seconds, the nine-storey building was reduced to rubble with dusts rising up slowly.
A part of the plaza tipped onto another three-storey building that also collapsed trapping at least 16 people inside.
Jharna shivered thinking of the fate of the people working there.
Thousands of people thronged the scene after the disaster. Many of them were in tears without having any clue where to look for their loved ones.
The army and the fire service found it difficult to carry out the rescue operation.
A few thousand volunteers were busy keeping the road clear for ambulances.
The ill-fated building had no approval from Rajdhani Unnayan Kartripakkha (Rajuk) that authorises the construction of buildings. The pillars of the illegal structure contained only nine thin iron rods each. And its floors were constructed in phases.
The country will observe a national mourning day tomorrow in memory of the victims of the Savar tragedy. Special prayers will be offered in mosques, temples, pagodas and other places of worship for the salvation of their departed souls.
The government yesterday donated Tk 55 lakh to the victims.
The family of each deceased would get Tk 20,000 while every injured person would receive Tk 5,000, Abdul Wazed, director general of the Department of Disaster Management, told The Daily Star in the evening.
The families of 45 deceased had already received the money, he said.