Is Bangladesh ready for nuclear power?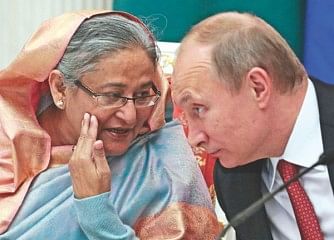 AFP
There is no denying the fact that Bangladesh suffers perennially from acute shortage of energy in domestic, industrial, agricultural and other sectors. All governments, right from the inception of Bangladesh, promised but invariably failed to tackle energy shortages, but that did not deter them from making further promises.
Whether this failure comes from the lack of sincere commitmen to the government or due to inherent inability to tackle the root causes of shortage is debatable. But one thing is absolutely clear that the country desperately lacks a credible energy policy which would effectively tackle this acute shortage.
There is no strategic overview of energy and power production within the country. Every government comes and tries to fix the problem on short termism within the life span of the elected parliament and inevitably fails. The generation of energy to match the supply and demand is never a quick-fix short-term undertaking. It requires long-term energy strategy covering demand and supply projection far into the future.
On the supply side the appropriate sources of energy such as coal, gas, oil, hydro-electric, nuclear, solar, wind turbine, biofuel etc. along with their cost effectiveness need to be considered before deciding on which energy mix would suit the country best. Thus a holistic approach towards energy generation is called for.
But the present government under Sheikh Hasina's watch is going almost blindly for the big bazooka solution -- nuclear power plant -- without any preparation and without any appreciation of what it involves. Let us look into what nuclear power plant does involve and what preparations the country needs to have to successfully generate nuclear power. Without appropriate preparations the country would be led to economic and technological disaster.
The most important element for nuclear power is the availability of skilled workforce and technically competent engineers and scientists. As nuclear power generation requires high quality technical solution for safe operation, the competence and technical knowhow of the staff are vitally important. These vital requirements cannot be fudged or faked. If the organisation or the country tries to fake or manipulate expertise, it will undoubtedly backfire and lead to disasters.
Institutional and legal framework is the next most important element. This element sets the framework for the establishment of regulatory organisations (radiological, environmental, food and fishery, mechanical and structural, quality control and so forth) which will control and supervise the whole operation of nuclear power.
Associated with nuclear power are the handling, storage and transportation of radioactive material and waste. Without proper and effective regulatory regimes, the general public as well as the in-house nuclear workers would be unnecessarily exposed to higher doses of radiation leading to deterministic and stochastic effects. Cancer of various types is the outcome of the radiation detriment and there could be genetic effects affecting future generations of the exposed persons.
Financial provision is central to the nuclear project. It must be pointed out that nuclear power plant is a mega-high cost project for any country. For a relatively poor country like Bangladesh, the demand on resources relative to the GDP cannot be overstated.
However, the present government has signed an agreement with the Russians to build a VVER-1000 reactor plant at Rooppur, Pabna at the stated construction cost of $2,000 million. (There is further understanding that a 2nd plant of the same type will be built a few years later). The interest rate for this loan is stated to be LIBOR (London Inter-Bank Offered Rate) + 1 per cent. At the moment the LIBOR rate is historically low of about 1 per cent (it had never been lower in the last 300 years). So the total interest rate is going to be about 2 per cent now. The Russians will put forward initially an amount of $500 million to carry out initial stages of work. The remaining amount of $1,500 million will be forwarded during the period of construction over the next six to eight years. The Bangladeshi government will have to keep servicing the loan (interest plus capital), although there will be no income coming from the plant for the next eight years or so.
Just for the $500 million loan coming by the end of March, the government will have to pay 70 crore taka as interest alone per year. When $2,000 million is drawn, say, by the end of 5th year, the interest payment alone will be 280 crore taka per year, provided all previous payments have been made in time and there is no loan restructuring. It needs to be pointed out that this historical low LIBOR rate of 1 percent is unlikely to stay low for long.When it goes back to the historical average rate of 3 percent (probably in three to four years' time), the interest payment per year would be 560 crore.
It may be stated that the government will have to pay back to the Russians the capital and interest payment, which will be on the average 1,400crore taka every year for the next 30 years, regardless of the plant operating or not!
As stated above, the government had signed an agreement with the Russian vendor, Rosatom, to build a VVER-1000 reactor plant at an estimated cost of $2,000 million. It may be pointed out that this figure of $2,000 million is stated only by the Bangladeshi sources. At no time, either in Bangladesh or in Russia, the Russian sources put any figure for the construction cost of this plant.
The only statement the Russian vendor, Rosatom had put forward was that Russia had agreed to provide $500 million to finance the initial stages of Bangladesh's first nuclear power project. At the moment this $2,000 million looks attractive and very competitive, but it could be a ploy to grab the contract and then charge the full cost in future. This means that 1,400crore taka per year payment is very likely to be much higher.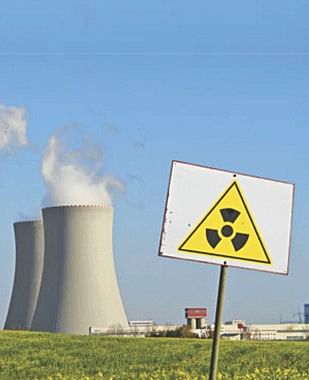 The initial design of VVER-1000 model was developed by the Russians in 1975 and, although some minor modifications were made since then, the model remained largely unchanged. This model had a particularly bad reputation, both in Russia as well as in other overseas countries, which can be seen from the following details. In Balakovo in Russia, construction of unit 5 and unit 6 of VVER-1000 were suspended in 2008 and 1993 respectively and they are unlikely to be restarted. In Bushehr in Iran, unit 4 construction had been stopped. Two units in Paks in Hungary were cancelled. Three units in Ukraine and one unit in Czech Republic were suspended. In Germany, all 4 units were cancelled after the reunification of Germany. Only success the VVER-1000 can claim was in Tianwan in China. But China took the active role in using third party parts and equipment, and the safety standards are being enforced by an international consortium of companies under China's strict safety criteria. With all these additional criteria, China managed to bring safety standards to western levels with this model at much more inflated cost.
This model and its predecessor VVER-440 were so unsafe and the safety standards were so poor that those East European countries which applied and eventually allowed to join the EU were told to decommission these reactors before they were allowed accession to the EU. Under this accession criterion the countries like Czech Republic, Poland, Lithuania, Romania, Bulgaria and so forth were forced to start decommissioning process before accession. (The writer of this article visited many of these countries to oversee, advise and enforce international safety standards in the decommissioning processes in those countries immediately after they joined the EU).
The Russian state-owned corporation, Rosatom has, however, replaced this model recently with an improved model, identified as VVER-1200 (slightly larger, 1200MWe), which incorporates many of the provisions of the western safety standards. Russia is planning to submit this improved design to British and American regulators for safety certification. When they receive this certification, they can claim to have a safe reactor model. But until that time, their models, particularly VVER-440 and VVER-1000 fall short of western safety standards.
Now the questions that arise in the minds of discerning public are these: Why is Bangladesh with total lack of skill and expertise in nuclear matters rushing towards nuclear power? Why, without adequate provisions for regulation of nuclear activities within the country, Bangladesh is going ahead with this nuclear power? Why is Bangladesh blindly accepting this VVER-1000 model when rest of the world had rejected it? There seems to be a haste to accept the $500 million loan from the Russians for a high-tech information centre in Dhaka.
There are many other sources of energy generation with far less risk to the country and to the people and with far less resource demand. Solar energy, bio-energy, wind turbine etc. can make substantive contribution to the energy mix of the country. But the present regime seems hell-bent on pursuing this nuclear option.
The writer is a Fellow of the British Nuclear Institute (FNucI) and a Chartered Radiation Protection Professional (CRadP). He is also the author of the text book 'Decommissioning and Radioactive Waste Management.'
E-mail: [email protected]