First Bangla search engine Pipilika takes off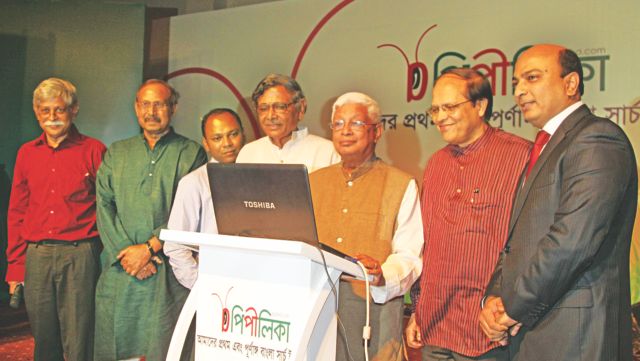 Third from right, ICT Minister Mostafa Faruque Mohammed launches the first-ever Bangla search engine at a ceremony at Ruposhi Bangla Hotel in Dhaka yesterday. Photo: Star
The first Bangla-language search engine, pipilika.com, took off yesterday, aiming to bring about further advancement of the language.
The search engine, with a storage capacity of 4 terabyte, was born out of an undergraduate project at Shahjalal University of Science and Technology (SUST), with technical and financial assistance from Grameenphone IT Ltd.
"Not many nations have a claim to such a search engine in their own language," said Muhammad Zafar Iqbal, professor of the university, who supervised the project.
The site is backed up by a dictionary of Bangla Academy spelling rules, which will suggest corrections for all mistakes in the language.
The search engine will fish out content from all Bangla newspapers, blogs, encyclopaedia, business, politics, entertainment, lifestyle, sports, and government websites.
Ruhul Amin Sajib, chief researcher of the project, said they have taken all possible preparations to manage hits on the search engine, including speed, storage and security.
"When search through Bangla language increases, the number of Bangla websites will also increase," he said.
Mostafa Faruque Mohammed, minister of information and communication technology, who inaugurated the website, said the search engine would spark off content development in Bangla and ultimately contribute to the advancement of the language.
A team of 11 researchers and developers of Computer Science and Engineering Department of SUST has developed the search engine, which will be operated by both GPIT and SUST as a joint venture.