Homebound, undaunted
People suffer for train delays, slow-moving traffic on highways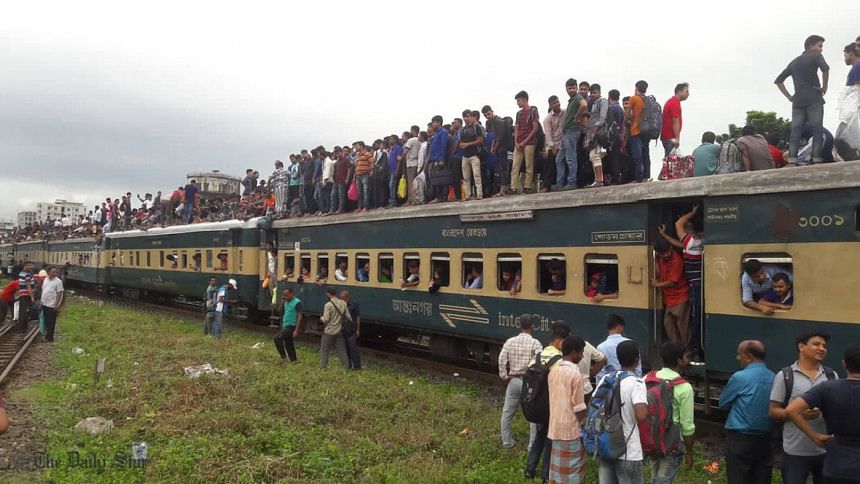 For Saidul Islam, enduring suffering on way home to celebrate Eid is nothing new. He has been going through a similar experience over the years. This year, there is no exception.
Buying a train ticket took him around 20 hours. He now has to wait for about six hours to board Lalmonirhat-bound train.
"No matter how difficult the journey I might get, all the pain would disappear once I reach home. Celebrating Eid with the loved ones is something different," Saidul, a trader, told this correspondent moments after getting into the train at Kamalapur Railway Station at 2:00pm. His eyes were lit up with joy.
Like Saidul, tens of thousands of people left the capital city yesterday to celebrate Eid-ul-Azha tomorrow with their near and dear ones.
Holidaymakers opting for a train journey suffered immensely as many trains ran behind schedules by hours yesterday. A huge pressure of passengers even saw a train halting its operation for around half an hour.
Tailback and slow speed of vehicles on some major highways caused huge suffering for home goers. Poor navigability and strong current in the Padma river continued to disrupt ferry services at two ferry terminals connecting Dhaka with south-western districts.
Sadarghat Launch Terminal witnessed a huge rush of passengers from yesterday afternoon after the closure of many garments factories. The rush of passengers would reach its peak from today morning, officials and launch owners said.
Meanwhile, the authorities suspended ferry service on Shimulia-Kathalabari route at 8:00pm due to bad weather.
SUFFERING AT KAMALAPUR
Like the previous day, thousands of Eid holidaymakers had to wait for hours at Kamalapur Railway Station to catch around a dozen trains, mostly bound for northern districts, departures of which were delayed by one to six hours.
Amid sweltering heat, many passengers were seen asleep on the floor of the platform. Whenever a train arrived, they struggled to get into a coach. People were packed like sardines inside the compartments. Many even took position in the space between two compartments.
A lot of passengers, including women, were seen climbing on coaches' roofs.
Lalmonirhat-bound Lalmoni Eid Special left the railway station at 2:45pm, five and a half hours behind schedule.
But just after moving around 200 yards, the train had to return to the station as overload of passengers weighed down one of its coaches to the track, Mahfuzar Rahman, a guard of train, told The Daily Star.
The train again left the station around 3:20pm after railway police had cleared the coach's roof of passengers.
The train was scheduled to leave Dhaka at 9:15am, but it reached Kamalapur around 1:30pm. On Sunday, the same train ran behind schedule by six hours.
Shitangshu Chakrabarty, manager of Kamalapur Railway Station, said at least 28 trains left the station till 1:30pm. Of them, six ran late.
Chapainawabganj-bound Rajshahi Express, which was scheduled to leave Kamalapur at 12:30pm, and Rajshahi-bound Silk City Express, which was scheduled to leave at 2:40pm, didn't arrive at the station by 3:30pm.
About the delay, Shitangshu said trains were taking relatively more time to pick and drop passengers at stations due to huge rush of passengers. This meant that trains were arriving at Kamalapur late and thus their departures were delayed.
The trains had not been able to make up the delay they made on Saturday as no trains have day off during the Eid rush, he said. On Saturday, a train had broken down in the capital's Tejgaon, causing delays to other trains for over an hour.
BUS SERVICE
Thousands of passengers bound for 21 southern districts suffered delays on Dhaka-Aricha Highway as buses took four to five hours to reach Paturia ghat from the capital's Gabtoli. Buses moved very slowly on the road due to an increased number of vehicles, reports our Manikganj correspondent.
The trip usually takes two hours.
Mahfuza Akter, a passenger of Kushtia-bound JR Paribahan, said they started from Gabtoli around 10:15am and reached Paturia Ghat around 2:45am.
Their bus had to wait at the ghat for two hours to board a ferry, she said.
Ariful Islam, a software developer from Chuadanga, said he started from Gabtoli by Chuadanga Deluxe around 10:30am and reached Paturia Ghat around 2:30pm. His bus also had to wait more than two hours to board a ferry.
SM Ashikuzzaman, general manager (commerce) of Bangladesh Inland Water Transport Corporation (BIWTC), said over 2,500 light vehicles and 400 long-haul buses were ferried in 12 hours from 6:00am yesterday by twenty ferries.
The number of vehicles suddenly increased as inter-district and city service buses plied on the highway from Dhaka to Paturia to cater huge number of home goers.
Rifat Rahman Shamim, superintendent of Manikganj police, said the number of buses increased on the highway yesterday and police were struggling to keep the situation under control.
However, there was no traffic jam, he said.
Korban Ali, manager of Hanif Paribahan for Dhaka-Barisal route, said the traffic situation at Daulatdia terminal improved yesterday compared to the previous day as a fewer number of cattle-laden trucks hit the road.
FERRY SERVICE
Ferry service on Shimulia-Kathalabari route was partially operative yesterday. After reaching Shimula ghat from Dhaka, most of the bus passengers took launch and speed boat to cross the Padma.
Shah Md Khaled Newaz, assistant general manager of the BIWTC, said they ran 16 small and medium-sized ferries to transport light vehicles and a large ferry to transport buses.
However, the ferry service was yet to be normal as they could operate ferries through one way only.  Each ferry had to wait to make way for another, resulting in 20 to 25 minutes delays, he told our Munshiganj correspondent.
In Tangail, a 20-kilometre long tailback was created on Dhaka-Tangail highway early yesterday, causing suffering to passengers and transport workers, reports our district correspondent.
The tailback was created from Rabna bypass in Tangail Sadar upazila to Bangabandhu Bridge east end in Bhuapur upazila.
The gridlock was formed around 12:45am after a head-on collision between a bus and truck on Bangabandhu Bridge link road in Salla area, said Sajedul Islam, a traffic inspector in Tangail.
The accident left several people injured. Though the damaged vehicles were removed from the road immediately, traffic situation got worse after some vehicles broke down at several points on the road, he added.
Meanwhile, buses started to move slowly on the 12-kilometre stretch (Gazipur to Chandra) of Dhaka-Tangail Highway from 6:00pm, reports our Gazipur correspondent.
This happened after the closure of garments factories. Many garment workers stopped buses to board those, slowing down the speed of the vehicles, said Bashudev Sinha, officer-in-charge of Salna Highway Police Station.
The traffic situation on the Dhaka-Chittagong and Dhaka-Mymensingh highways was relatively smooth.
LAUNCH SERVICE
Sadarghat Launch Terminal witnessed a bigger rush of passengers yesterday than the last few days, said Badiuzzaman Badal, senior vice-chairman of Bangladesh Inland Waterways (passenger carrier's) Association.
The rush for home is likely to reach its pick today, he added.