Birthday turns mourning day
Body of SI Uttam killed in Sunday's road crash taken to his Tangail home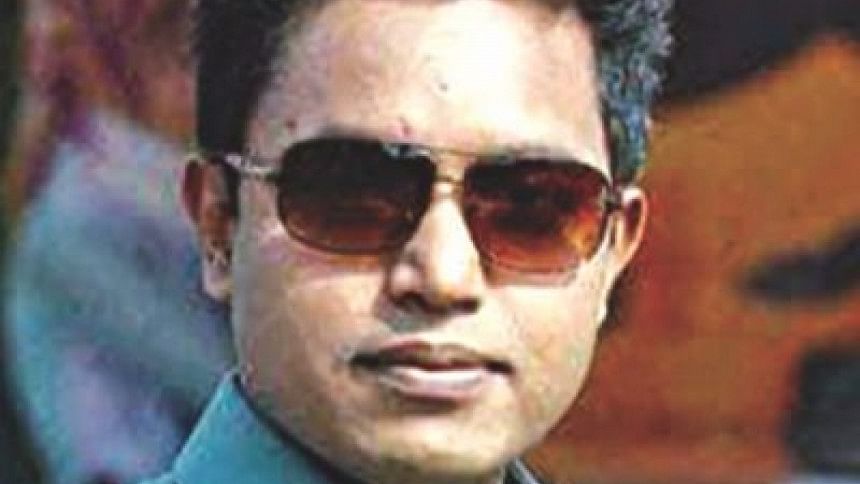 Kamona Rani, a resident of Kalihati of Tangail, was supposed to come to Dhaka yesterday to celebrate her son Uttam Kumar Sarkar's 33rd birthday.
Instead, she waited to receive his body at her home.
"Every year we celebrate his birthday together and my mother was supposed to go to Dhaka this time as well," said Uttam's brother Dipankar Kumar Sarkar.
However, those plans changed at the news of Uttam's sudden demise.
Uttam, a sub-inspector of Rupnagar Police Station, was killed in an unusual road accident in the capital's Mirpur on Sunday.
He left behind his two-and-a-half-month-old baby, wife, mother and a brother.
The accident occurred when he was bringing an Eagle Paribahan bus to the police station from Mirpur Beribadh area. 
The Barisal-bound bus was seized four days ago after its brake failed and it hit the car of a Jahangirnagar University teacher near Birulia in Mirpur area. It had been kept there since then.
Around 4:00pm, Uttam, who was on his motorcycle, asked an Eagle Paribahan staffer to drive the bus and follow him.
At one stage, Uttam slowed down his motorcycle in front of a speed-breaker but the bus' brake failed again and it rammed into his motorcycle.
Uttam was tossed on the road and the bus drove over him before stopping a few yards away. The SI died on the spot.
Sources at Shaheed Suhrawardy Medical College said  Uttam died as the wheels of the bus went over his abdomen.
Meanwhile, a Dhaka court yesterday sent the driver of the bus to jail.