Workers' abstention brings water transport to a grinding halt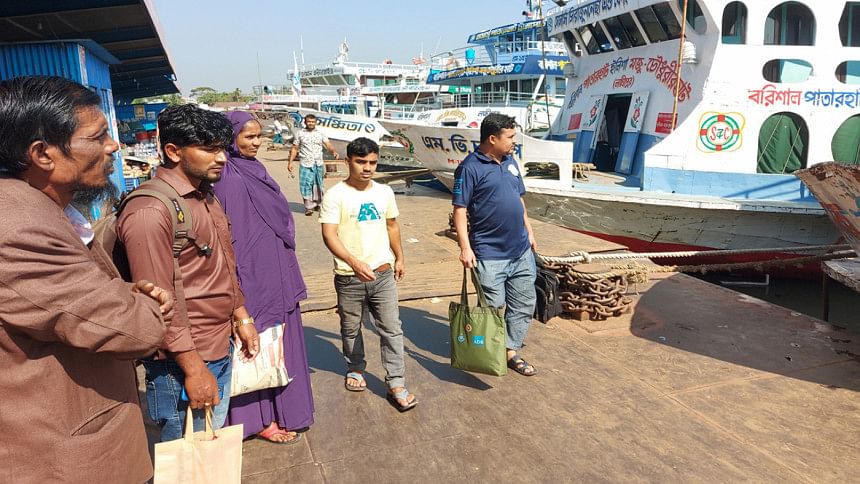 Passengers have been facing immense hardship since this morning as water transport workers went on an indefinite work abstention demanding an increase to their minimum monthly wages.
The work abstention started at midnight Saturday, owing to which no inland and long-distance launches left the country's river ports since this morning.
No launches have left Sadarghat launch terminal from this morning, said Alamgir Kabir, joint director of Bangladesh Inland Water Transport Authority.
"Some people came to the terminal but most had to return," he told The Daily Star at 3:00pm today.
The scenario was the same in other launch terminals of the country as well.
Many passengers waiting at the terminals had to either opt for alternative modes of transport or cancel their travel plans altogether.
Mohammad Khokon, from Pirojpur, was seen waiting at Barishal river terminal till this noon as he could not find any means to get to Bhola. Khokon said he would have to go to his destination by a trawler at a higher fare. Like Khokon, our Barishal correspondent saw many other commuters waiting for launches but to no avail.
No launches left Barishal river port since this morning, said Kabir Hossain, inspector of marine safety and traffic management department of Bangladesh Inland Water Transport Authority (BIWTA) in Barishal.
In Chandpur, the work abstention started around 12:00am with a 10-point demand.
Many passengers who weren't aware of the strike were left without any options for travelling once they reached the terminals.
However, BIWTA authorities made arrangements for passengers to reach their destination through alternative means, reports a correspondent from Chandpur.
Chandpur BIWTA official Md Momin Ullah said water transport workers enforced the strike demanding a minimum monthly salary of Tk 20,000.
Abul Hashem master, president of Bangladesh Launch Labour Association, Barishal, said workers have gone on work abstention across the country under the banner of Noujan Sramik Sangram Parishad.