Three-wheelers overrun Mymensingh city roads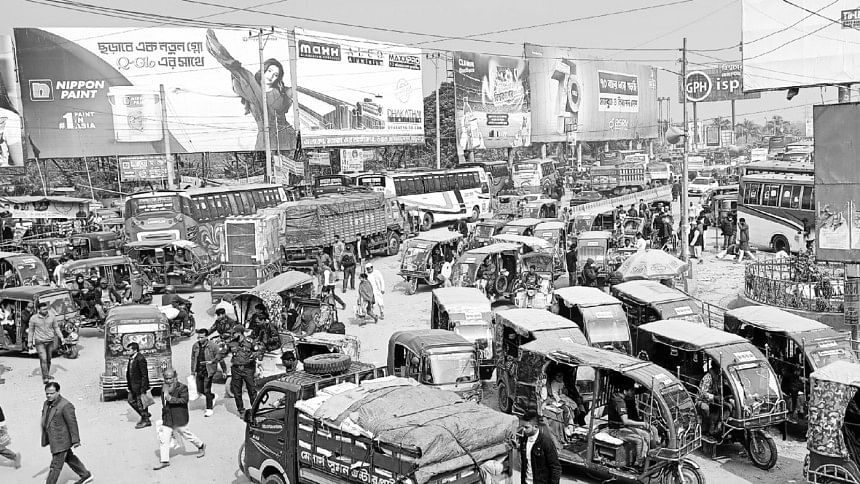 Although the number of vehicles plying in the city has increased many folds, authorities have not undertaken extension work in the last 25 years.
Traffic congestion has now become a nightmare for Mymensingh city dwellers, as battery-run auto-rickshaws, mostly unregistered, occupy almost all roads illegally.
While talking to this correspondent, many residents said they have to deal with severe traffic jams in Shambhuganj Bridge area and other important points even on weekends.
Abul Hashem, an apparel trader in Station Road area, said traffic congestion is now the norm due to the overwhelming number of auto-rickshaws and other vehicles, putting thousands of people in trouble.
To combat the huge pressure of traffic, Mymensingh City Corporation (MCC) had split three-wheelers into two categories -- on the basis of colour, red and green -- and instructed each category of vehicles to ply on alternate days.
Around two months ago, it introduced specific registration numbers for the same purpose.
But defying the instruction, most auto-rickshaws, regardless of the colour and registration number, ply daily.
Mati Mia, a tailor in Charpara area, said a huge number of unregistered auto-rickshaws enter the city every day through different routes -- including Shambhuganj Bridge, Mymensingh-Muktagachha road, Mymensingh-Phulbaria road and Dhaka-Mymensingh highway.
An auto-rickshaw driver, preferring not to be named, said sometimes police prevent their movement, but the drivers somehow manage the situation and run freely.
According to MCC sources, since its upgradation as a city corporation in 2018, the population under MCC has risen by two times, but road-extension work is yet to be done.
Contacted, Mymensingh traffic inspector Syed Mahbubur Rahman said although the number of vehicles plying in the city has increased many folds, authorities have not undertaken extension work in the last 25 years.
Moreover, shortage of traffic police at 18 important points is making it difficult to handle the pressure of so many vehicles, said the inspector.
Mohammad Waliul Islam, assistant licence inspector at MCC, said the number of licensed auto-rickshaws plying in the city is around 7,000.
Residents, however, claimed that the actual number of battery-run three-wheelers is several times more, in absence of any drives against the unlicensed auto-rickshaws.
Engineer Nurul Amin Kalam, secretary of Mymensingh Nagorik Andolon, a citizens' platform, said traffic jams became a regular problem for city dwellers years ago, but the situation has become unbearable in recent days.
Advocate Nazrul Islam Chunnu, convener of Jonoudyog, another citizens' platform, said the authorities must show zero tolerance against all modes of unregistered vehicles.
Illegal occupation of footpaths by small traders is another reason behind the traffic congestion, he mentioned.
Contacted, MCC Mayor Ekramul Haque Titu said in addition to the steps already taken, they will take further initiatives to resolve this issue.