Road Safety Demo: Braving rain, students continue protests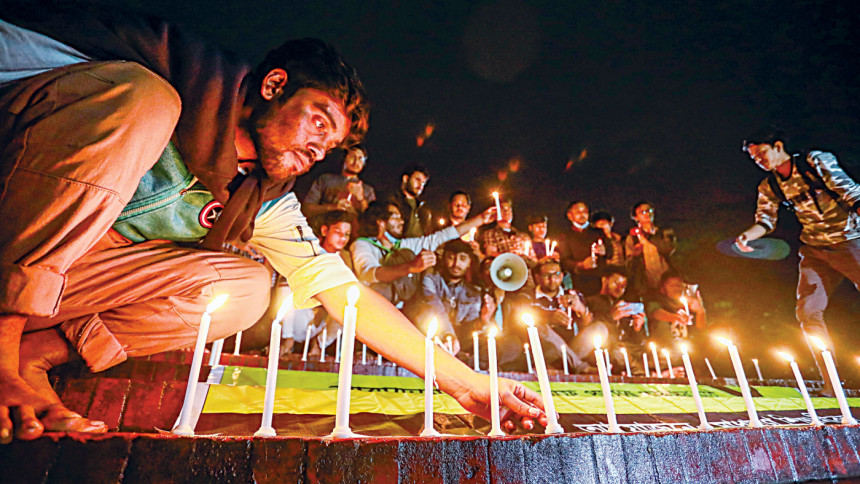 Even in the incessant rain, students of several schools and colleges took to the street again yesterday in Dhaka and some other districts to demand safe roads.
In the capital, a group of students gathered at Rampura Bridge around 12:30pm, wearing black scarves over their faces in honour of victims of road accidents, to protest for their 11-point demand.
Like previous days, they carried placards demanding safe roads, and the end of corruption and mismanagement in the transport sector.
They also demanded justice for Notre Dame College student Nayeem Hasan and SSC candidate Mainuddin -- two victims of recent accidents.
Speaking on behalf of the students, Shohagi Samia, a student of Khilgaon Model College, said the administration remains silent though people are being frequently killed on the road.
She said they have, however, decided to postpone their protests until the weather improves, after which they will hold a cycle rally from Mainuddin's school to Nayeem's college.
They will also hold a student-teacher rally to press home their 11-point demand.
Meanwhile, a student of Dakhin Banasree Model High School and College -- Kaniz Fatema Sejuti -- who has been protesting in Rampura for the last several days, alleged that the principal of the school has been telling her not to join the movement.
"My father was called to the school today [yesterday]. The principal told me that our demands are logical and that the government has agreed to them and told me not to join the protest anymore.
"He [the principal] asked what would we do if police arrest my father…I asked why they would arrest him if he is not a criminal."
"The principal then said if I have any wish to join politics, he would try to get me involved with Chhatra League through his channels," she told The Daily Star last evening.
"I told him that I have no wish to join any political party. I am taking part in a logical movement for safe roads," said Sejuti.
Contacted, Alam Sarder, acting principal of the institution, told The Daily Star that he just called Sejuti's father "to check their background".
"What she said is not true. If they protest unnecessarily on roads even after the government agreed to their demands, I, as a teacher, can talk to them. The final exam is over. I wanted to know if our students are protesting on roads," he said, refuting the allegations.
Meanwhile in the evening, another group of students, under the banner of Nirapad Sarak Andalan, lit candles on the Central Shaheed Minar premises in order to eradicate the "darkness in the road sector".
They also organised a session where rebel music was played.
On Sunday, they submitted a memorandum to the railway ministry and to the shipping ministry, to realise half fare for students in all public transports across the country.
Inzamul Haque Ramim, one of the campaigners, said they would hold human chain programmes across the country today.
On December 10, they would hold a rally where family members of the victims in road accidents would take part.
Meanwhile, some students of Green University also took to the streets in Mirpur, protesting the death of Mahdi Hasan Lemon, 21, a fourth-year student of the university.
In Chattogram and Lakshmipur, students from several schools and colleges brought out rallies to demand safe roads.