Padma Bridge: Toll likely to be 1.5 times that of ferry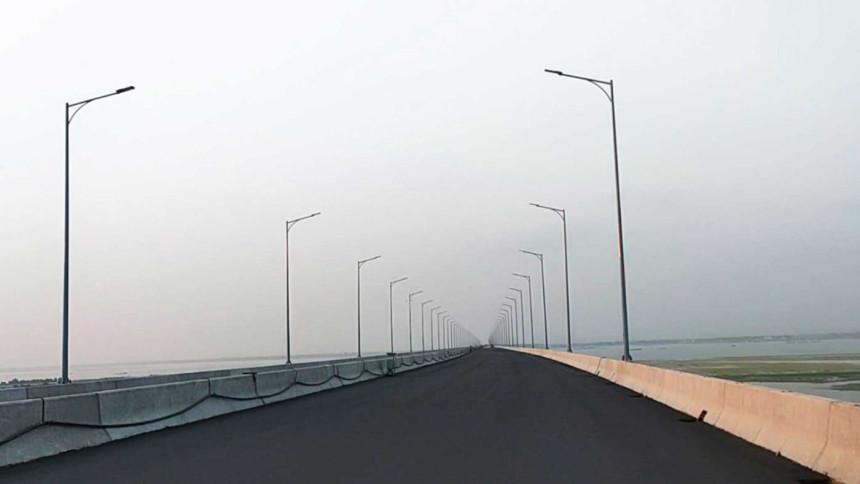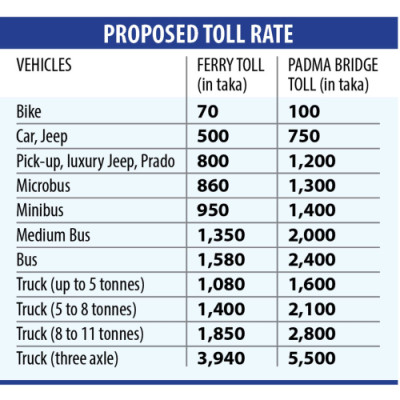 The toll of the under-construction Padma bridge may be at least 1.5 times higher than the average toll paid on ferries plying the Padma.
The Road Transport and Bridges Minister Obaidul Quader yesterday approved Bangladesh Bridge Authority's proposal in this regard.
The summary of the proposal was sent to the Prime Minister's Office for her approval yesterday, Quazi Muhammad Ferdous, chief engineer of BBA, told The Daily Star yesterday.
If the PM gives go-ahead, a private car will have to pay Tk 750 as toll, while the ferry toll is Tk 500.
A bike on the bridge would have to pay Tk 100, while on ferry it would pay Tk 70. A minibus on the bridge would pay Tk 1,400, while on the ferry Tk 950.
The construction work of the Padma Bridge, which is being built to establish direct connection between the capital and the southern region, is now at its final stage.
Once operational, the 6.15km bridge will connect the capital with 21 southwestern districts by road and rail, providing relief to tens of thousands, who often struggle at the only two ferry terminals.
Both these terminals struggle with the amount of ferry passengers ahead of major festivals like Eid.
The bridge -- a dual carriageway with a single rail line on a separate level -- is expected to boost the country's gross domestic product by 1.2 percent.
After several revisions, the deadline of the project was set at June 2023, including a one-year defect liability period, for which the cost rose to Tk 30,193 crore from the original TK 10,161 crore.
Prime Minister Sheikh Hasina earlier this month told parliament that that the bridge would be open to public by the year-end.