Goods transport strike in Sylhet: "Vegetable prices hiked by Tk 10-20 per kg"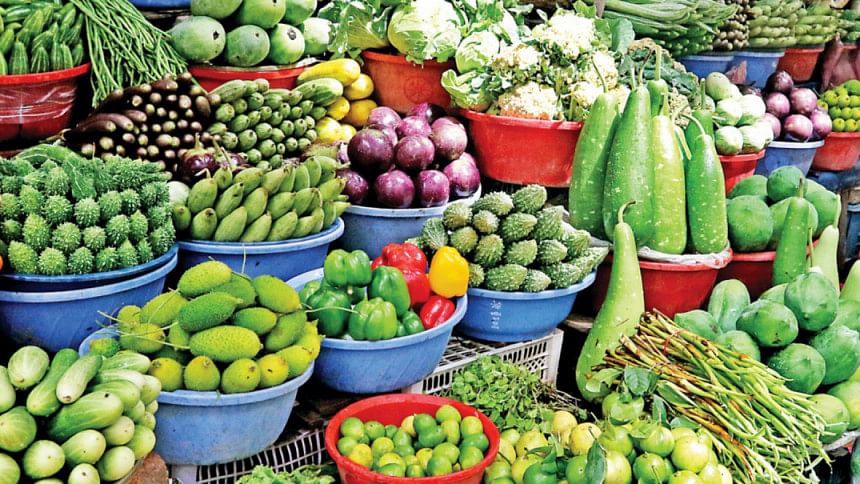 The fish and vegetable markets in Sylhet have become unstable due to the ongoing 48-hour goods transport strike in the area.
The owners and workers are observing the strike for the second consecutive day today, demanding withdrawal of ban on stones extraction from the quarry in Sylhet and also permission for lifting stones manually. 
Sylhet Divisional Truck, Pickup Van and Covered Van Owners-Workers Unity Council enforced the strike at 6:00am yesterday (October 31, 2022). 
The strike did not leave much impact on the prices of the commodities yesterday as trucks carrying the essentials for the day entered the city before the strike began.
Yesterday, the transport workers were seen standing with sticks at every entrance of the city and preventing all types of goods vehicles, including trucks, pickup vans, covered vans, from entering Sylhet.
While visiting Bandarbazar, Amberkhana, Tilagarh, Madina Market and Osmani Medical College area yesterday and today, our correspondent found that vegetables and fish were sold at higher prices due to lack of supply in the market. 
Bilal Hossain, a trader at Lalbazar in Bandarbazar, told The Daily Star, "Although fish price increased a bit yesterday, the price hiked more today since there is almost no supply of fish in the retail market. Whatever there are is being sold at higher price."
Ashik Ali, a vegetable vendor at Amberkhana Bazar, said, "No vegetables were supplied to the wholesale market today, so the price is high. Some of the vegetables have come from the surrounding areas of the city and those are being sold at higher price.  The price of almost all the vegetables has increased by at least Tk 10-20 per kg."
Abdur Rahim, a resident of Baluchar area of the city, said, "Usually we buy vegetables from the vendors every morning but not a single vendor came today."
Contacted, Sabbir Ahmed Faiz, organising secretary of Sylhet District Truck Owners' Association, said, "Our transport strike will continue till tomorrow morning.  The meeting with the administration held before the strike was not fruitful.  I have not yet received any assurance from the  government or the administration.  We will sit at 4 pm today and decide the next course of action. "
He also said that no goods vehicles were allowed to enter   Sylhet city since 6 am yesterday.