Dhaka-Mawa-Bhanga Expressway: Long tailback as vehicles taking an hour to pay tolls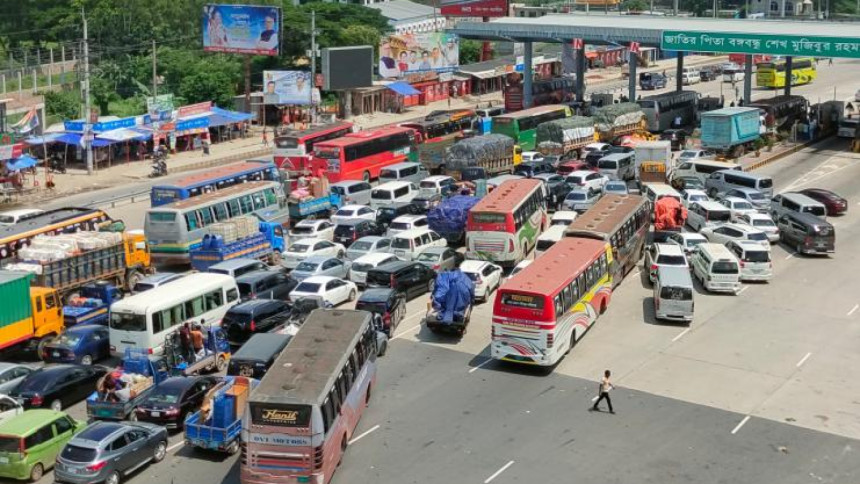 A long tailback of vehicles has formed at the Dhaleswari toll plaza on Dhaka-Mawa-Bhanga Expressway as vehicles are taking from 30 minutes to one hour to clear tolls and cross the plaza.
Our Munshiganj correspondent last reported at 6:30pm from the spot that around four km long tailback has been lingering for most of the day since this morning (Friday, July 1, 2022).
Earlier, toll collection on the expressway became effective from 12:00am today.
However, many drivers and owners of vehicles are apparently not aware about the toll collection and are engaging in arguments with the toll plaza staff, due to which toll collection is getting dragged longer while vehicular movement is slowing down, causing the tailback, said Dewan Abul Kashem Md Nahin Reza, executive engineer of Roads and Highways Department in Munshiganj.
Talking to The Daily Star, some drivers complained that earlier they had to pay toll at the Dhaleshwari plaza for the bridge, now they are having to pay toll for expressway which they were not aware of, adding that if they ask about the new toll then the plaza staff are not responding properly.
"Each vehicle will take three or four minutes more for toll clearance if we have to respond to the query of all drivers, which will be time consuming, and already it is slowing down vehicle movement at the plaza entrance," said Nur Hossain, a toll collector at the plaza.
"Work is going on to place eight more toll booths on the expressway. Once it is done, the vehicular movement will become normal," said Md Abdul Momen, sub-divisional engineer at Roads and Highways Department in Keraniganj.