A day of gridlock and suffering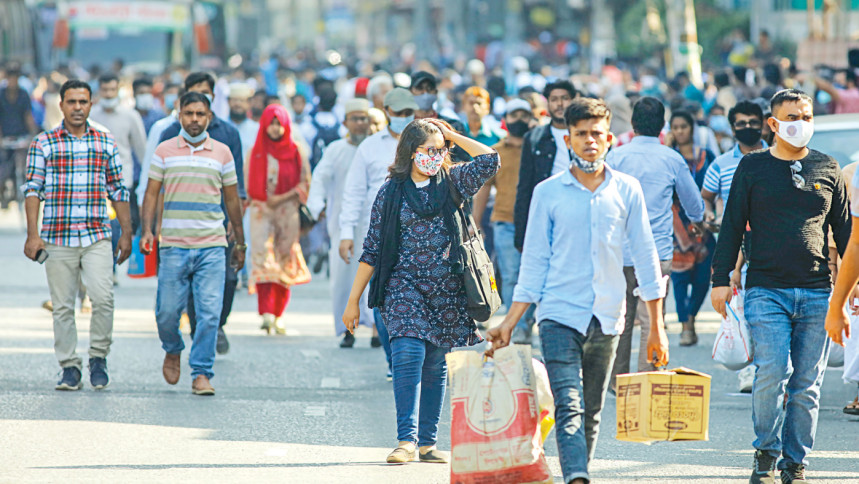 The student movement for safe roads, which escalated after the death of SSC candidate Mainuddin Islam on Monday night, caused gridlocks and long tailbacks in some major parts of the capital yesterday.
Thousands of students from various institutions blocked roads in Rampura, Motijheel, Mohammadpur, Dhanmondi, Science Lab and Banani areas from 10:30am.
As roads leading to the protest spots were blocked with traffic, many commuters had to walk to their destinations. However, ambulances and other emergency medical vehicles were allowed to pass through.
Road blockades in Rampura and Dhanmondi created major traffic jams, as movement of vehicles was halted for hours. The blockade also triggered huge traffic gridlocks in Rampura, Malibagh, Mouchak and adjacent areas.
The students allowed private vehicles to pass through a lane, after checking driving licences. No bus was allowed to pass.
Rasel Ahmed, who was going to Malibagh from Natun Bazar by bus, said the bus got stuck at Badda. After a long wait, he decided to reach his office on foot.
Azmal Ali, a trader from Gazipur, said he came to Malibagh in the morning, but struggled to find a vehicle to go home around 2:30pm.
Auto-rickshaw and motorbike drivers refused to go to some places, fearing jams and other hassles.
Shirin Akhter, who was waiting for a vehicle for half an hour at Rampura's Hatirjheel intersection in the afternoon, said she started walking to Banani after finding no vehicle.
Rampura Police Station Officer-in-Charge (OC) Rafiqul Islam said police were deployed to control the situation.
The agitating students said that they would continue their protest until their nine-point demand is met.
The protests for safe roads and half fares have been continuing for several days. Amid the demonstrations, Nayeem Hasan, a student of Notre Dame College, was rammed and killed by a Dhaka South City Corporation (DSCC) garbage truck, which was driven by a cleaner, on November 24, and Mainuddin Islam was crushed to death under a bus.