Buses hired for AL's Rajshahi rally, Natore commuters left in lurch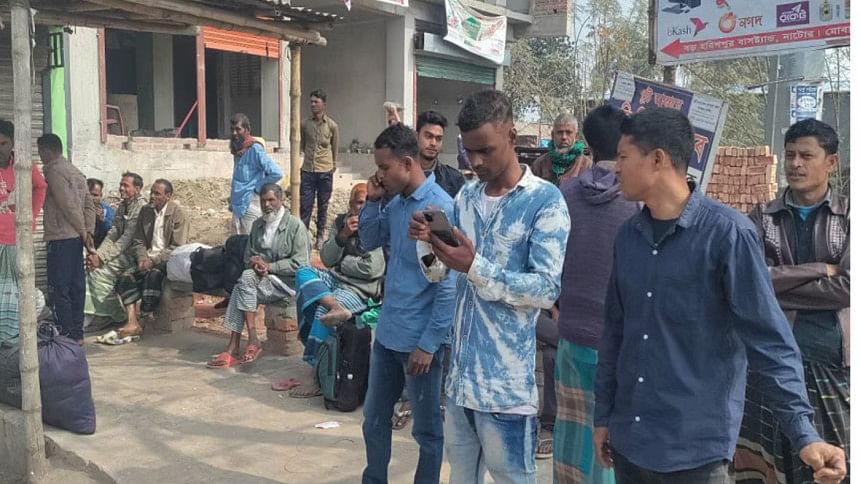 Commuters in Natore are suffering due to a shortage of buses that usually go through the town as a majority of the vehicles were hired to take Awami League leaders and activists to Rajshahi for the ruling party's divisional rally there.
Most of the buses that run on the Rajshahi-Dhaka route via Natore are not operating on the route today. The bus companies are either refunding the passengers or deferring departure times to the evening.
Palash, the counter manager of Desh Travels in Natore, told The Daily Star, "None of our buses on the Rajshahi-Dhaka route have come since morning. On other days, five to seven buses start for Dhaka before noon. There will be no more buses before evening. We are refunding the passengers for the tickets we sold in advance."
Mobarak Hossain, counter manager of Hanif Paribahan in Natore, said, "At least 10 buses usually go to Dhaka every day, but today, only five buses started for Dhaka since morning. I have returned the money, or only selling tickets for the evening."
Many passengers have been seen waiting for the bus at Natore bus stand. Some of them were returning home after getting no tickets.
Mim Khatun, who was waiting at Natore bus station for a Dhaka-bound bus, said, "When I came to the bus stand, I got no ticket at any counter. No bus will leave for the capital before evening."
Another passenger, Fazer Ali, said, "I had booked a ticket to go to Dhaka this morning. Now, they said the bus won't go and returned the money."
Some day labourers said they were supposed to go to Dhaka from Atrai in Natore. It took them around Tk 150 per person to reach the Natore bus station.
If they cannot go to Dhaka and earn their living, the Tk 150 they will have to spend to go back home will leave them unable to do any shopping for basic necessities, they said.
The passengers leaving Natore for Pabna, Kushtia and other districts are also facing the transport crisis.
Mujibur Rahman, general secretary of the Transport Owners Association, told The Daily Star, "There are no buses to ply on the regular route as all the buses have been hired for the rally. Buses have been hired from Rajshahi, Pabna and Bogura.
"When the buses return to the district by evening, everything will be back to normal."
Supervisor of Aquib Paribahan Md Alamgir said, "The bus fare from Natore to Sirajganj is Tk 100. But today, we are taking Tk 200 per person as there will be no passengers and the bus will return empty."