Allow UN to probe rights violations
Urge the families of enforced disappearance victims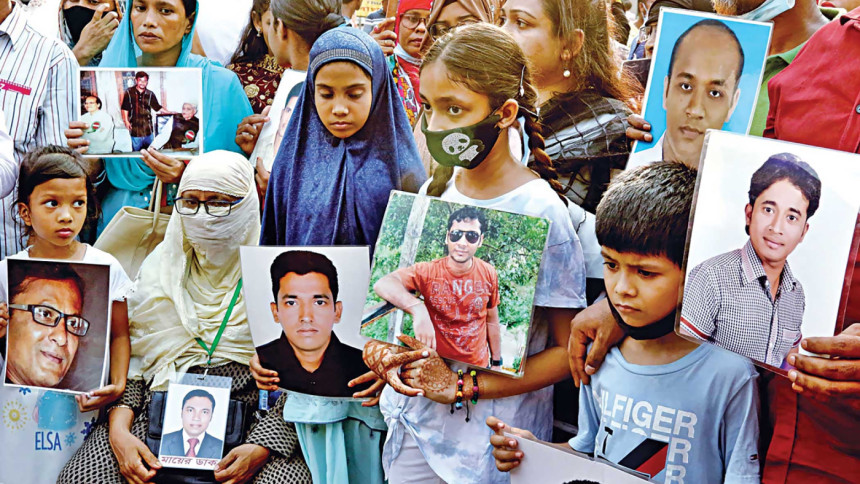 Families of enforced disappearance victims yesterday demanded that the United Nations be allowed to investigate the alleged rights violations committed by law enforcers.
They also demanded that the alleged places serving as detention cells be emptied and the situations of the forcibly disappeared be disclosed.
Furthermore, they demanded they be allowed to lodge cases on "enforced disappearances" charges, instead of being forced to file "missing persons" cases.
The families, congregating under the banner of Maayer Daak, made the demands at a human chain organised in front of the National Press Club.
Nasrin Jahan Smrity, wife of missing Mirpur-based trader Ismail Hossain, said, "Take me where you have kept my husband. I want to spend my days in detention with him. I want to share his pain,"
Ismail was allegedly forcibly picked up in 2019 and has been missing since then. The family points fingers at the Rapid Action Batallion.
Hafsa Islam Raita, the teenage daughter of Sajedul Islam Sumon, a BNP leader who was picked up in 2013, said, "Take me to detention as well, so that I can see my father or at least touch the ground he is buried in."
Gonoshasthaya Kendra founder Dr Zafrullah Chowdhury said, "The authorities have records of every person who was forcibly disappeared. Those must be revealed."
Asif Nazrul, professor of University of Dhaka, said, "If a trial cannot take place in Bangladesh, it can still happen in international courts, which can hold states accountable."
Khandaker Ayesha Khatun, mother of Ahmed bin Quasem, also son of executed war criminal Mir Quasem Ali, said, "I learnt that my son is still alive, so please return him to me. He has not done any crime."
Ahmed was allegedly picked up by law enforcers in 2016.
"My son went barefoot while my granddaughter ran after him with his shoes … But they did not let her give them to him," wept Khatun.
One mother cried, "Why are we not being able to go to these locations and finding our sons?"
Her cry was echoed by Nurul Haq Nur, leader of Gono Odhikar Parishad and former vice president of the Dhaka Unviersity Central Students' Union, who encouraged everyone to congregate and demand access into these locations.
"We need to eradicate such an infrastructure where people can be arbitrarily detained," he said.