Ghost cases haunting BNP men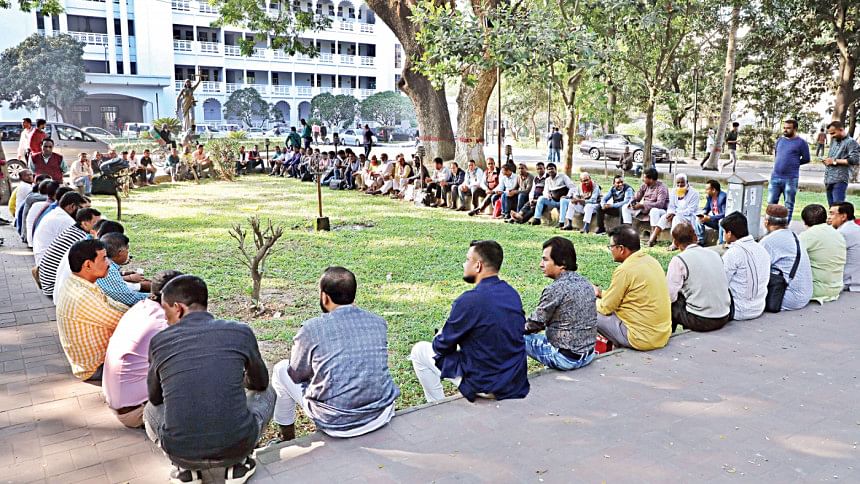 Ishaq Islam, president of a union unit of pro-BNP Jatiyatabadi Chhatra Dal, and 300 others blocked Narayanganj Ring Road on November 20, blasted crude bombs, and vandalised vehicles, according to a case filed against them.
Fatullah Police Station Sub-Inspector Shahadat Hossain filed this case.
Talking to The Daily Star, Ishaq and his close relatives said he has been studying in Japan for eight months now. There is no way he could be involved, they insisted.
The case was filed under the Special Powers Act and the Explosives Substances Act, which has provision for the death penalty.
Friends and families said Ishaq is studying Japanese language at Kobe International Japanese Language Academy.
"I have been out of the country for eight months. Yet they framed me in a case over vandalism and cocktail explosions," Ishaq told this newspaper.
"They would have destroyed my whole career if I were in the country now," he said.
His uncle Sohel Rana said Ishaq left Bangladesh in March.
Fatullah Model Police Station Officer-in-Charge Rizaul Haque Dipu said anyone can be an accused, regardless of their current location, if they have connections with the incident.
In recent months, police and ruling party men have been filing cases against BNP men in different districts.
The BNP claims 169 "repressive" and "ghost cases" have been filed against 6,723 BNP leaders and activists and 15,050 unnamed people between August and November.
BNP leaders said these were Awami League's "political strategies" to suppress their movement.
In August, BNP started holding rallies demanding the next parliamentary elections are held under a neutral government, and protesting commodity price hikes.
Such "ghost cases" saw a rise ahead of BNP's December 3 rally in Rajshahi and the party's plan for a gathering in the capital on December 10. 
This newspaper recently analysed several cases and found discrepancies in claims made by the complainants and witnesses.
The case filed by SI Rahman Khandaker of Godagari Police Station in Rajshahi on November 17 is one example.
According to the case, Godagari municipality unit Jubo Dal Convener Mahmubur Rahman Biplob and 200 others assembled on Helipad ground in Godagari on November 16 night to destablise the situation through subversive activities, and make BNP's December 3 Rajshahi rally a success.
The complainant mentioned that Biplob and his supporters pelted a police team with stones and brick chunks when they went to the scene, after being tipped off. He also claimed to have recovered four "cocktails" (crude bombs) from the spot after the accused fled the scene.
The SI claimed that he got the names of Mahbubur Rahman and four other accused from witnesses.
His versions of the event have been contradicted by all the three people named in the case as witnesses.
"Police grabbed me by my arms minutes after I heard an explosion and took me to the Helipad ground nearby. There, police showed me four objects that looked like jorda cans [chewing tobacco can] and said they were bombs. Then police forced me to sign a paper," said Yusuf Ali, one of the witnesses.
He said he did not see any BNP leader or anybody else gathering on the ground. He also said he did not see anyone attacking the police.
Police also mentioned local Md Mohiuddin, 63, and Robiul Awal, an auto-rickshaw driver, as witnesses. Both of them said they did not see any BNP men or anybody else, or see police recovering any bombs.
They said police showed them four cans.
In another instance, a case mentioned that 40-50 BNP men clashed with Bangladesh Chhatra League men and attacked the BCL leaders and activists with bricks, iron rods and hockey sticks in Beanibazar in Sylhet.
Car driver Abdul Hafiz who "filed" the case on November 15 with the local police also mentioned that during the clash his car was vandalised by the BNP men.
Asked about this, Hafiz contradicted the allegations made in the case. He said he saw BNP men take shelter after being attacked by Awami League men and police. The clashes ensued when BNP men retaliated.
"I do not know what is written in the case statement as they [police] did not give me any copy," he added.
Ahead of BNP's November 19 rally in Sylhet, at least three cases were filed against 600 BNP men with different Sylhet police stations.
Discrepancies is also found in another case filed with Bandar Police Station in Narayanganj by BCL activist Md Sohel on November 18.
In the case, he accused 24 named, including local BNP leader Ataur Rahman Mukul, and 25 to 30 unknown others for an attack on a local AL office with axes, sickles, iron rods, and hockey sticks.
He also alleged the accused blasted crude bombs and looted Tk 50,000 and three mobile phones.
Contacted, Sohel said five to six people covering their faces attacked the AL office. One of them was carrying a stick.
In 13 days, 10 cases were filed in Narayanganj over subversive activities, attacking AL offices. Over 250 BNP and its front organisation leaders and workers and over 500 unknown others were accused.
In Tangail, at least 11 cases have been filed against BNP leaders and activists in different upazilas until Saturday. These cases, which the BNP termed false, named over 200 BNP men and over 600 others.
Police claimed these cases have been filed against the accused on specific charges, including preparation for sabotage.
Rezaul Karim, OC of Sakhipur Police Station where one case was filed, claimed four people were arrested and five crude bombs  were recovered in drives in different areas after an explosion on Wednesday night.
Eighty-eight people, including 38 identified BNP leaders and activists, were accused in the case. BNP leaders rejected the police claim, saying no explosion took place there.
Saiful Islam, a local, corroborated the BNP claim. He said on Wednesday night they watched a football match from 10:00pm, and did not hear any explosion.
BNP leaders alleged their partymen had to flee their homes in the police crackdown launched to prevent them from joining the Dhaka rally on December 10.
In Bogura, 12 cases were filed in the last 13 days by police and AL activists in connection with vandalism of AL offices, exploding crude bombs, recovery of bomb-like objects and throwing crude bombs at police.
In Pabna, at least eight such cases were filed by police and local AL leaders since November 20, naming 50 BNP men and over 1,000 unidentified others.
Noted rights activist Nur Khan Liton said, "Recently we have heard about cases where we find dissimilarities between what actually happened and what is recorded about an incident in the case document."
Referring to newspaper reports, he said cases are being filed over crude bomb explosions, but people who live around the spot did not hear any such sounds, which is very unfortunate.
In such cases names of a few accused are mentioned, while several hundred others are mentioned as unknown accused.
"When opposition parties announce any protest programme, their leaders and activists are detained and shown arrested in those cases even though they were not named as accused in those cases," he said.
He said this is done by an authoritarian government to prolong its stay in power by creating panic.
"This is done so that people don't dare to criticise the government for its misdeeds. But the fact is you cannot stay in power for long that way," he observed.
Our correspondents in Sylhet, Tangail, Pabna, and Bogura contributed to his report.