Cumilla rally today: BNP faces few obstructions this time
Party activists bring out processions from key points in the city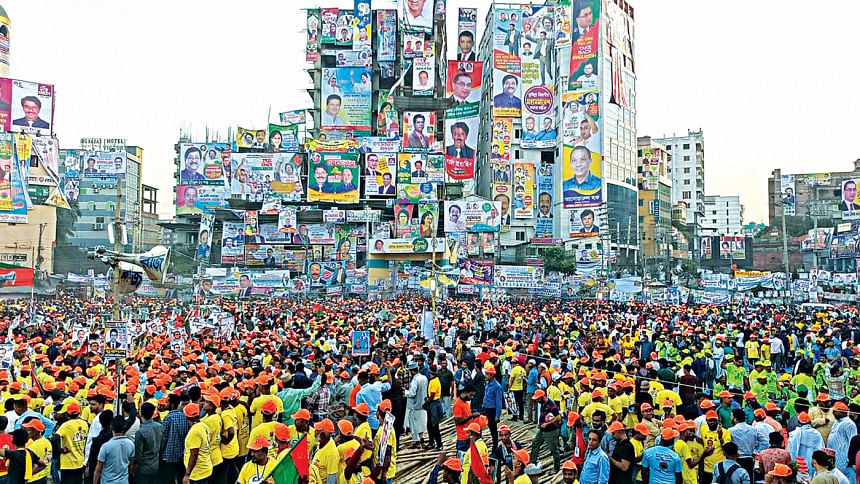 Though BNP men faced transport strikes and obstructions ahead of most of the recent rallies in several cities, the situation in Cumilla was different before today's rally.
No transport strike has been called in Cumilla and BNP activists have made fewer allegations of facing obstructions on the way to the city.
The party plans to gather a huge crowd at the rally to show its popularity in one of its strongholds.
Several thousand BNP leaders and activists gathered on the Cumilla Town Hall premises yesterday. They arrived at the venue in processions throughout the day yesterday.
In the cities where transport strikes were enforced ahead of the BNP rallies, thousands travelled to the venues several days before the events and stayed there overnight, turning the rallies into three-day gatherings.
As the activists are not allowed to stay at the venue in Cumilla overnight, they went there in comparatively small groups yesterday.
Many believe that the transport strike was not called this time to keep the traffic flowing on Dhaka-Chattogram highway, known as the lifeline of the country's economy.
The BNP started its series of rallies by holding the first one in Chattogram on October 12. There was no transport strike there. But strikes were called by transport owners and workers ahead of all the following rallies.
Yesterday, BNP Standing Committee Member Khandakar Mosharraf Hossain told a press conference in Cumilla that the party leaders and activists were harassed and stopped at different places in Cumilla and its adjacent districts.
"But tens of thousands of party men will join the rally defying all odds. The people of Cumilla will show the red card to the government at the rally," he said.
Meanwhile, the feud between Cumilla District South BNP Convener Aminur Rashid Yeasin and former city corporation mayor Monirul Haque Sakku has been in discussions in political circles.
Sakku was expelled from the BNP because he participated in the mayoral election in July, defying the party decision. BNP sources said Sakku wants to return to the party.
Regarding the rally, Sakku said, "We have arranged food and accommodation for 25,000 people."
On the other hand, Yeasin said he arranged food and accommodation for 30,000 people.
Hordes of BNP leaders and activists reached Cumilla city from Chandpur, Brahmanbaria and 17 upazilas of Cumilla. BNP Vice-Chairman Barkat Ullah Bulu and other leaders reached the city on Wednesday night.
"It will be the biggest rally in Cumilla in the recent history," he said.
BNP's posters, banners and billboards were seen in different places of the city.
The party has been holding rallies in protest of the price hike of essentials, gas, electricity, and fuel.
Rallies have already been held in Mymensingh, Khulna, Rangpur, Barishal, Faridpur and Sylhet.
The party will hold a rally in Dhaka on December 10, concluding its series of rallies.