BNP's plot to boycott polls failed by US visa policy: Quader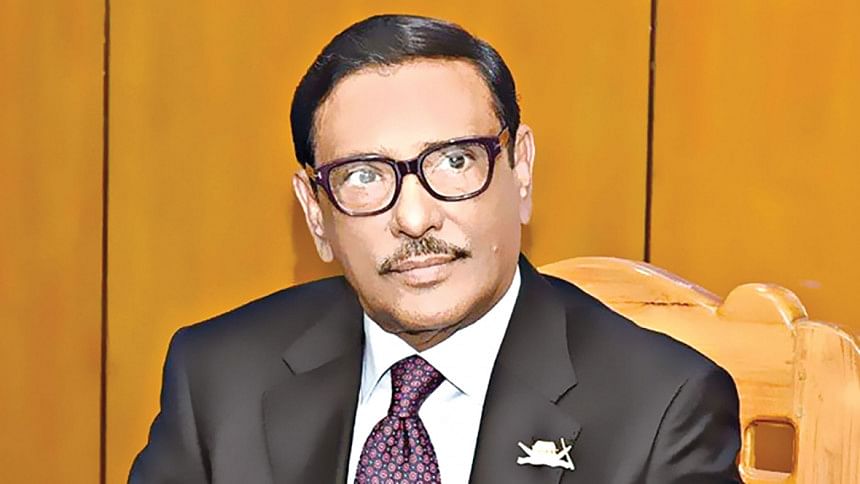 Awami League General Secretary Obaidul Quader today said BNP's conspiracy to boycott the election got thwarted due to the new visa policy announced by the US for Bangladesh.
"BNP has now plunged into a deep depression, not getting response from foreign masters as per the blueprint. So, BNP has become disorientated, losing the path of its movement," he said in a statement.
Quader, also the Road Transport and Bridges Minister, said BNP's propaganda that if it does not participate in the election, the polls will not be considered participatory in the national and international arenas, which is against the underlying ideals of democracy, fell flat.
"BNP's conspiracy to boycott the election has failed because of the new US visa policy. At the same time, the United States has issued a strict warning against BNP's arson and destructive activities to thwart the elections," said the AL general secretary.
He said BNP hired lobbyist firms spending millions of dollars to appease their foreign lords. Their conspiracy still continues. Not getting the expected response from the foreign masters, they are now plotting new dramas against the government and Awami League in the light of the new visa policy of the United States, he added.
Obaidul Quader said Bangladesh Awami League does politics for the welfare of the people.
All the activities of the party are run involving the desire and expectation of the people. The people are the main strength of Awami League, he said.
"BNP will become a public enemy as much as they curry favour with the foreign lords by selling the interest of the country and people," he said in the statement signed by AL office secretary Barrister Biplab Barua.
The AL leader said the people won't be misguided.
"No matter how hard the BNP leaders, who are isolated from the people, try, the people of this country won't be misguided by their propaganda and lies as the people of Bangladesh are united under the leadership of Sheikh Hasina, who is the symbol of development, progress and prosperity," he said.