BNP road marches attacked
1 killed, over 350 hurt in city, elsewhere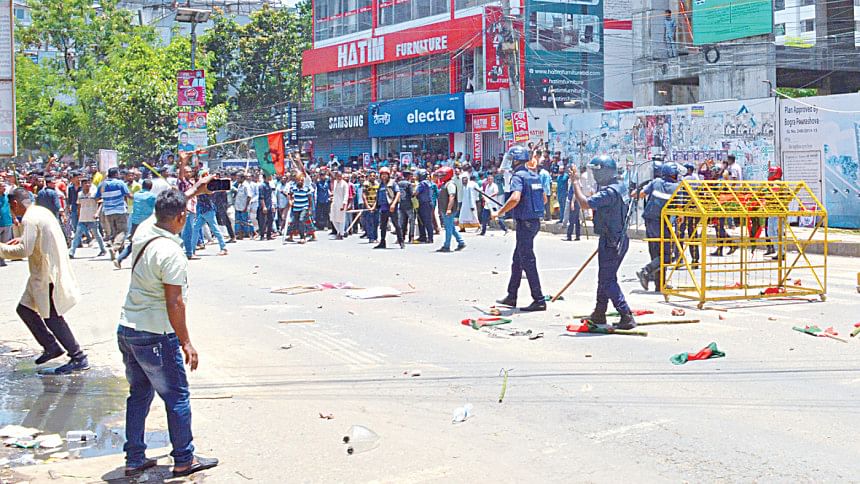 Attacks on BNP processions in the capital and different districts left one activist dead and over 350 others injured as the party supporters marched demanding resignation of the government yesterday.
Besides, clashes between the BNP men, Awami League, and police in Bogura, Kishoreganj, Khagrachhari, Pirojpur, and Joypurhat left 57 policemen and 40 ruling party activists injured.
The incidents happened as the BNP held its first countrywide demonstration to press home its one-point demand for the government to step down and the next national election to be held under a non-partisan administration.
BNP's like-minded parties also demonstrated in different parts of the country.
The BNP is scheduled to march again today from the capital's Uttara to Jatrabari.
In the capital yesterday, hundreds of BNP activists left Gabtoli around 11:20am and reached Roy Saheb Bazar in Old Dhaka around 6:00pm, walking for over six hours under the scorching sun.
At Gabtoli, BNP Secretary General Mirza Fakhrul Islam Alamgir said the people had risen for their rights and against "misrule".
In the afternoon, the AL also held a procession from Moulana Bhasani Road to Dhanmondi Road-32. The programmes caused long tailbacks on city streets.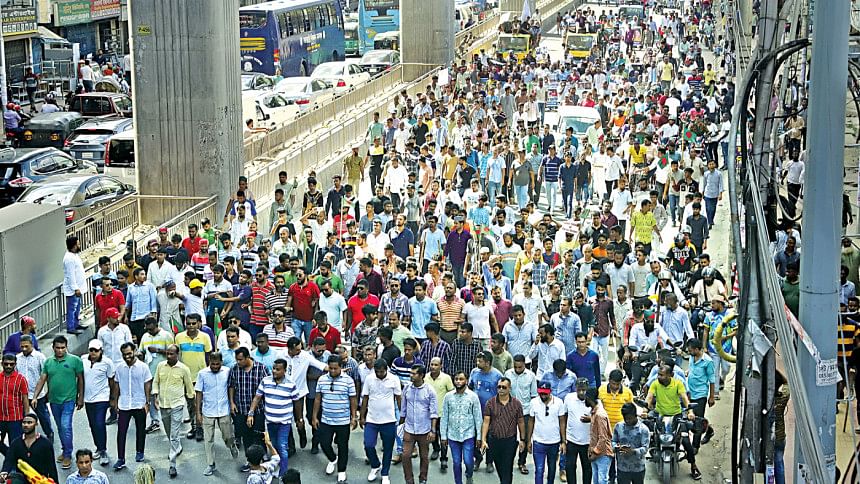 ACTIVIST KILLED IN LAXMIPUR
At Samad intersection of the town around 4:30pm, a 25-year-old man named Sajeeb was stabbed in his left arm during a clash between the BNP and AL activists.
Witnesses said the resident of Chandraganj area then took shelter at a nearby shopping mall while bleeding profusely. He died soon afterwards.
Laxmipur BNP said Sajeeb, a Jubo Dal activist, was hacked by ruling party men.
Locals said the clash began as police and AL men intercepted a BNP procession near Jhumur Cinema Hall.
As the clash spread to different areas, at least 100 people, including 30 policemen, were injured. The local BNP said 70 of its activists were injured.
Anwar Hossain, resident medical officer at Laxmipur Sadar Hospital, said 69 people received treatment at the facility, and 12 of them had shotgun pellet injuries.
CAPITAL
In Mirpur, several activists were injured in a clash between BNP men and Bangladesh Chhatra League activists from Govt Bangla College. Both sides hurled brick chunks at each other.
BNP activists torched a motorcycle, a bicycle, and damaged the college gate.
Locals and students said the clash began when BCL activists threw chunks of bricks at the BNP procession.
BOGURA
At least seven people suffered shotgun pellet wounds as police opened fire during a clash with the BNP around 12:30pm, local BNP leaders said, adding that at least 40 activists were injured, while police claimed some 10 policemen were hurt.
The clash happened when police intercepted the marchers heading towards the Satmatha area where the AL was holding a programme.
As police fired teargas canisters, at least 54 students of the nearby Yakubia Girls High School became sick, said sources at the Bogura Mohammad Ali District Hospital.
Superintendent of Police Sudip Kumar Chakraborty said the BNP men attacked police and vandalised a police outpost.
KHAGRACHHARI, OTHER DISTS
Over 200 people were injured as supporters of the BNP and AL clashed at Shapla Chattar and other areas as processions of the two parties met on the road.
Local leaders of the parties accused each other of instigating violence.
In Pirojpur, at least 35 people, including seven policemen, were injured in a clash between BNP supporters and police around 10:45am.
In Kishoreganj's Rathkhola area, around 50 BNP men were injured, and eight of them suffered shotgun pellet wounds amid police firing, said leaders of the party.
The police said 10 policemen were injured and police vehicles were damaged.
In Joypurhat, at least 25 people were injured in a clash between the archrival parties around 5:30pm. BNP leaders claimed that the ruling AL activists vandalised their party office.
In Rajbari, a clash between two BNP groups left 50 activists injured before they began marching.
A journalist was also injured in the clash.
Meanwhile in Tangail, two BNP leaders were detained by police while marchers were stopped in Brahmanbaria and Noakhali.