BNP leader Kamal murder: BNP, JCD clash with BCL in Sylhet
Leaders and activists of local BNP and its student body Jatiyatabadi Chhatra Dal (JCD) brought out procession in Sylhet city last night (November 6, 2022) protesting the killing of BNP leader AFM Kamal in a knife attack in the city.
During the procession, a group of Chhatra League members clashed with the protesters, our Sylhet correspondent reports quoting witnesses and BNP men.
AFM Kamal, the former health affairs secretary of Sylhet district unit of BNP, was murdered after miscreants blocked his car and stabbed him in Barabazar area of Sylhet city last night (November 6, 2022).
A section of BNP and JCD started a protest march from Sylhet MAG Osmani Medical College Hospital premises around 11:30pm.
Sylhet district BNP sources said that several tyres were burnt at some places when the procession was on its way to Chowhatta in the Sylhet city.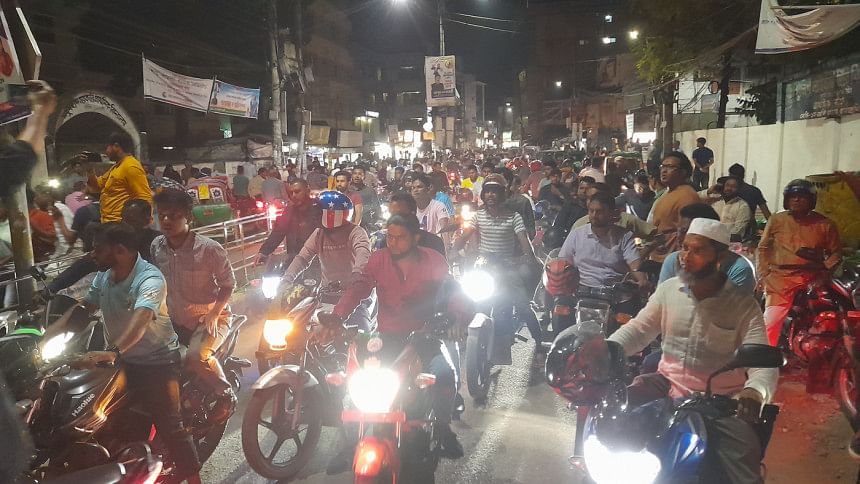 When the procession reached in front of Alia Madrasa ground in Rikabibazar, a group of Chhatra League members clashed with them. A chase and counter took place between the two groups.
However, police and the party leaders could not confirm whether anyone was injured in the clash.
At that time, the shutters of some shops and a private car were vandalised in Rikabibazar area.
Later, police reached the spot and dispersed the protesters.
Deputy Commissioner (North) of Sylhet Metropolitan Police Azbahar Ali Sheikh told this correspondent, "There were some incidents of setting fire and vandalism when a procession was brought out in protest against the murder of the BNP leader. Police brought the situation under control."
Talking to this correspondent, Sylhet district BNP president Abdul Qaiyum Chowdhury said "We have assured the protesters in the hospital premises that we will hold a protest programme after taking decision tomorrow (November 7, 2022) morning."
"We don't know who brought out the procession. If there was any clash during the procession, we are not aware of it," he added.
Meanwhile, some leaders of Sylhet Awami League claimed that the portraits of Bangabandhu Sheikh Mujibur Rahman and Prime Minister Sheikh Hasina were vandalised from the BNP's protest procession.
After the police dispersed the BNP and JCD men, the leaders and activists of Awami League and its associate bodies staged a demonstration in Rikabibazar area, witnesses said.
Sylhet city AL President Professor Zakir Hossain said, "BNP leaders and activists have shown audacity by vandalising the pictures of the Father of the Nation and the PM. If they are not arrested by tonight [last night], the BNP's mass rally on November 19 will be resisted."