'Why didn't you come back too?'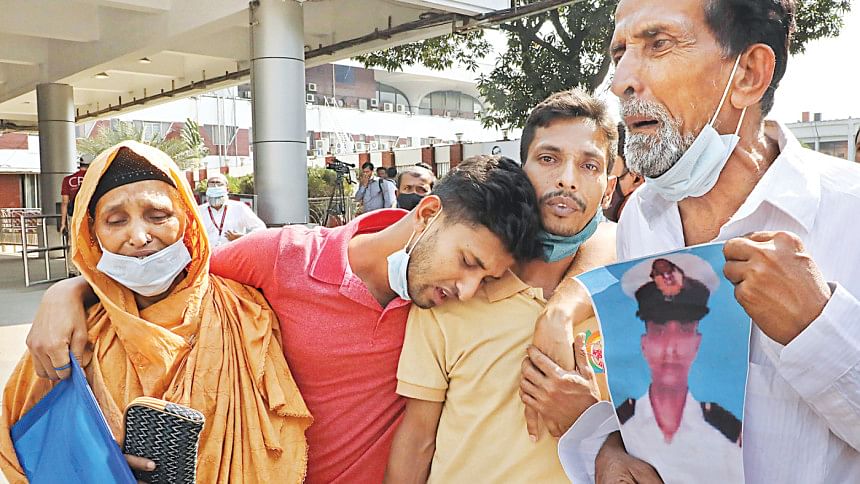 As the 28 sailors came out of the Hazrat Shahjalal International Airport's arrivals terminal one after the other, one pained cry stood out among the otherwise cheerful sounds of happy reunions.
"Oh, my son. Why didn't you come back too?" Abdur Razzak Hawlader was repeatedly saying.
He was expecting that the body of his son Hadisur Rahman would also arrive along with the other crew members, who had survived the March 2 attack on the ship stranded at a Ukrainian port. But that was not to be.
Yards away, Hadisur's brother was rolling on the floor, crying inconsolably.
"All the dreams my brother dreamt about me are shattered," Golam Mowla, Hadisur's younger brother, said amid sobs.
The ill-fated Bangladeshi ship, "Banglar Samriddhi", got stranded in Ukraine as the Russian invasion started a day after it anchored at Olvia port on February 23.
A "missile" attack claimed the life of one of the crew, third engineer Hadisur Rahman.
Yesterday, all the crew members arrived in Bangladesh by a flight of Turkish Airlines from Romania around noon. Hadisur's body is still in Ukraine, and efforts are underway to bring the body home, officials said.
Mowla told journalists that the airport authority actually didn't say whether  Hadisur's body would arrive. "My parents are asking me but I don't have any answer."
He said, "We knew that 28 sailors would return. It was our hunch that my brother's body may also arrive. We want to see the body of my brother."
Hadisur's mother Rashida Begum too went to the airport with her husband and younger son.
"My son will never ask me to give him something good to eat. My son will no longer ask me for anything," she said.
All the 28 sailors walked out of the airport around 2:00pm as their family members and officials of the shipping corporation and foreign ministry were waiting to receive them.
Among the sailors, GM Noor e Alam, captain of the ship, spoke to the media.
He started by thanking the Bangladesh government and all officials who worked to bring them safely back to Bangladesh war-torn Ukraine.
"We are glad that we returned home safely. With the clear direction of the prime minister and help of all officials concerned, we were able to return to the country safely and at the earliest."
He said all the sailors were extremely worried after the attack but the government had taken sufficient initiatives to bring them back safely. "We are very tired.
"Usually, we don't talk with senior government officials, but after that attack, government officials talked to us and gave us courage."
Narrating the journey, he said, "It is beyond imagination. Actually, we could not imagine that we would return in such a way. There are citizens of many big countries who are yet to return home. But it happened due to the prime minister's sincere efforts and cooperation from the diplomats."
Expressing sorrow for Hadisur, he said, "We are deeply saddened. We would request  the government and the corporation [Bangladesh Shipping Corporation] to give proper compensation to his family."
Asked whether there was any chance to bring back the ship damaged in the war, he said, "After the war broke out, 19 channels of the port were closed and there was no chance of using any other channel."
Sikder Badiruzzaman, chief of the East Europe wing of the foreign ministry, told journalists that, "It is a great pleasure to us that we could bring all the 28 sailors to Bangladesh. Now they are safe and will go to their families."
He said they are hopeful of bringing Hadisur's body back at the earliest, but he could not give any timeline. "It is tough to fix any date. You can understand. A war is going on and people's movement has stopped."
Regarding the compensation, he said, "We will do whatever is required."
All crew members, rescued from the ship on March 3, took shelter in a bunker in the war-ravaged European country.
After two days, they reached Romania via Moldova.