Where readers and writers meet
Besides being a place to buy and sell books, the Boi Mela is also where readers get to meet and greet their favourite writers. While the more popular authors attract bigger crowds to their publishers' stalls and pavilions with an appearance, for more obscure authors, this is the chance for them to get acquainted with their readers.
The Boi Mela opened is doors at 11:00am yesterday, as it was a holiday. From the beginning, book enthusiasts started pouring in.
Yesterday saw the ninth and tenth volumes of the popular "Mujib" graphic novel's unveiling. Published by Centre for Research and Information (CRI), educationist Muhammad Zafar Iqbal and author Anisul Haque unveiled the volumes yesterday.
During the ceremony, Muhammad Zafar Iqbal recalled the time when attempts were underway to remove Bangabandhu's name from history. He said this graphic novel can represent the visionary leader to future generations.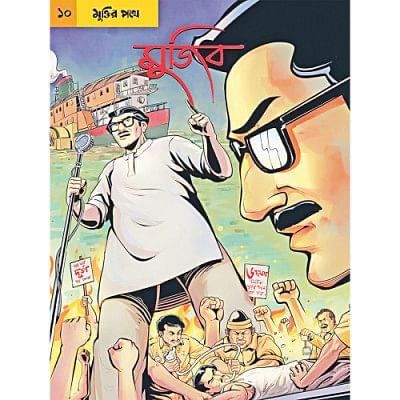 He ended up staying at the fair grounds through the afternoon, being swarmed by fans and autograph hunters the entire time.
The fair was also graced by popular novelist Imdadul Haque Milon. "There's been a constant flow of visitors to the fair this year. If they even come to touch the books without buying them, that's still a great thing for all of us," he said.
This correspondent came across garment trader Mosharraf Hossain, who came all the way from Banasree. He was holding the book "Think Like CEOs" published by Daily Star Books. "I bet something good will come out of it if I can learn from this book and use it for my business," he said.
 Meanwhile, on the first day of its operation, a mobile court was vigilant in identifying and fining publishers and visitors for not following hygiene rules at the fair.
According to Bangla Academy, 143 new books were published at the fair yesterday.