Unbearable weight of grief
Parents lose both children to dengue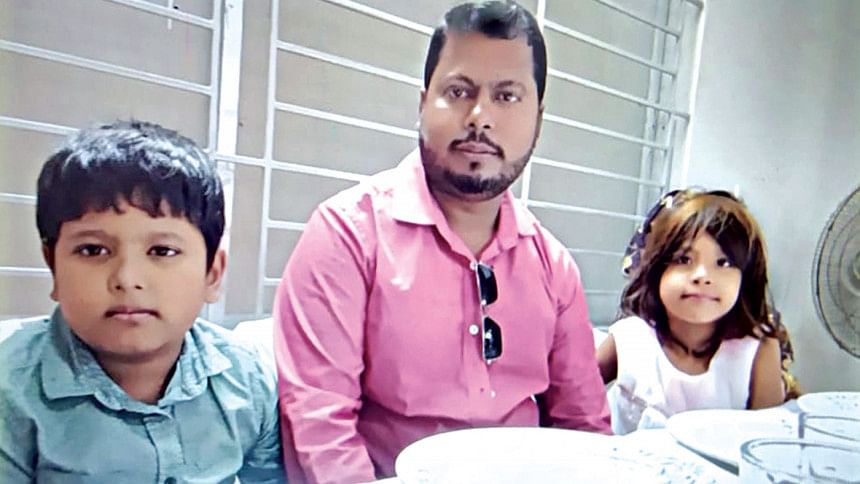 Every Thursday, Mohammad Ibrahim's seven-year-old daughter Isnat Jahan Raida would call him at work in the evening and ask him to take her somewhere on the weekend.
On most Fridays over the last few years, Ibrahim and his wife Rabeya Akhtar took their children Raida and nine-year-old Arafat Hossain Rauf somewhere for dinner.
This would be the first of many difficult weekends for Ibrahim and Rabeya. Dengue claimed both the children. 
Raida died on August 25 just about a week after Arafat died. Both of them were students of a kindergarten.
"What can I tell you? Everything has turned upside down," Ibrahim, a garment factory employee in the capital's Mirpur, told this correspondent.
"They used to wait all week for Friday. How would I live?" asked the grieving father, while walking aimlessly near his home in Paikpara.
To cope with the grief, Ibrahim and Rabeya have decided to leave the neighbourhood to get away from the place where they were raising their children.
Arafat had a mild fever on August 14. After visiting a doctor the next day, the family ate out and took selfies that turned out to be the last photos of them together.
On August 16, a test confirmed that Arafat had dengue. A neighbourhood doctor said there was no need for hospitalisation because the boy was not seriously ill.
But Arafat's blood platelet counts dropped the next day, and by the time Ibrahim took him to a hospital on August 18, he was dead.
"We were not given any chance to do anything. After he died, my wife and I blamed ourselves thinking we had neglected his treatment. When Raida tested positive for dengue within days, we tried everything.
"But there were no beds available at hospitals. There was no room in the paediatric intensive care units. We went from one hospital to another."
Eventually, Raida was admitted to the paediatric intensive care unit (PICU) of a hospital in Dhanmondi. After five days, she was released.
But soon after returning home, she fell ill again. Then she was admitted to the PICU of another private hospital in Mohakhali.
Doctors planned to give her seven injections that would cost Tk 3 lakh. Two injections were administered. But on the morning of August 25, Raida died.
"They could not be without each other for a moment. That's why they have gone together. We buried them beside each other in Hemayetpur."
Ibrahim's brother said the city corporations were responsible for the tragedies as they failed to combat the mosquito population and the health system for failing to handle the outbreak.