The bird out of the cage, at last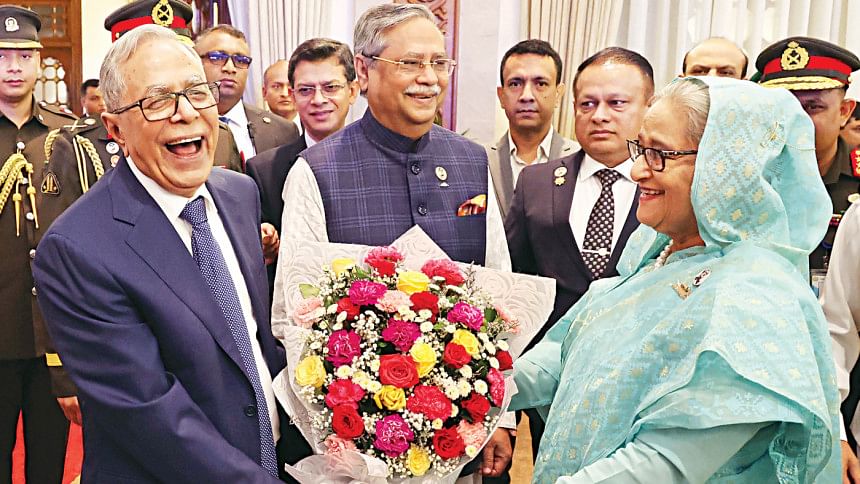 If I get into politics again or take any other position, I will be humiliating the people of this country.
With President Mohammed Shahabuddin taking the oath of office, the era of president Abdul Hamid came to an end yesterday.
Hamid was given a guard of honour and a farewell. He was quiet and calm during his farewell.
He said his life as president in the Bangabhaban often felt like living in confinement as he could not lead a free life and be among the people due to tight security protocol.
During the 10 years as president, Hamid became acceptable to everyone, including political parties like the BNP. All respect the charming, cordial and friendly man.
Throughout his political career that began in 1959, Hamid was admired by everyone for his simplicity, honesty and his witty speeches.
However, in 2018, when he commuted top criminal Tofayel Ahmed Joseph's life sentence for murder, it drew huge criticism.
Even though he was vocal against corruption, corrupt politics, poor image of student politics, university teachers in politics, and loan defaulters, Hamid stayed mum on the controversial one-sided national election in 2014 when more than half the MPs were elected unopposed.
He also did not say anything when there was a bizarre system in parliament under which the opposition was also a part of the government.
But his journey from the grassroots to the Bangabhaban was remarkable.
The only president of Bangladesh to finish two five-year terms in a row started his political career at 15 in 1959 by joining the then East Pakistan Chhatra League.
Ten years later, he joined the Awami League.
In 1970, when he was just 26, Hamid was elected a member of parliament from the Mymensingh-18 constituency.
Hamid is a valiant freedom fighter.
In independent Bangladesh, he was elected MP seven times by the people of his area, Kishoreganj.
Ending his presidency yesterday, Hamid told reporters at the Bangabhaban, "I am retired now. Those who are tired, go for retirement. Now I can engage myself in some writing. But there is no plan to be in politics actively.
"Because the people of the country gave me so much respect and made me president -- the highest post of the country for two terms. If I get into politics again or take any other position, I will be humiliating the people of this country."
When journalists asked him how he plans to be with the people after 10 years in tight security, Hamid said he loves the people but could not go near them or express his love. "Now I will be able to express it to many people."
"I was the Speaker [of parliament]. I had no desire to come here. I was more comfortable in parliament. Because I considered myself free there. I knew that I will fall into many traps when coming here. Anyway, I have spent 10 years here.
"I think I have served the longest time as president in this subcontinent."
According to the constitution, no one can hold the office of president for more than two terms.
After the independence of Bangladesh in 1971, 16 others have served as president.
Hamid became the president in-charge on March 14, 2013, when then president Zillur Rahman was under treatment in Singapore.
After Zillur's death, he became the acting president on March 20 that year.
He was elected president unopposed on April 22 and was sworn in on April 24.
Hamid was elected president a second time on February 07, 2018, and took the oath of office on April 24.
On his successor, Hamid said, "He will fulfil his constitutional duties properly. This is the expectation of the whole nation and my expectation as well."
Yesterday, Hamid moved into his home in Nikunja in the capital.