Serve people with honesty, sincerity: President to police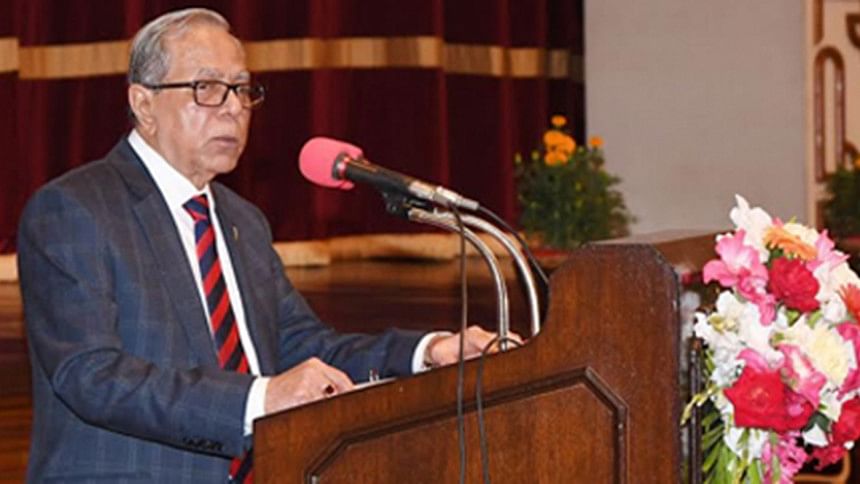 President Abdul Hamid today urged the police to serve people with honesty and sincerity being imbued with the Liberation War spirit and thus gain their trust.
"Anyone who comes to you to take service shouldn't be harassed. You need to make sure they can avail of necessary services and suggestions. You must keep up efforts to become a service-oriented and people-friendly force by gaining the trust of people - that's the expectation of people."

The president said this at a function marking the 'Police Week -2019' held at Bangabhaban at noon.

"One of the key elements of good governance for the development and progress of the country is the proper enforcement of law. You must continue to play a responsible role to maintain the country's internal security and establish a safe society," he said.

The president further said, "Your main responsibilities are maintaining internal security, protecting people's lives, establishing the rule of law and preventing terrorism and crimes upholding human rights and democratic values."

Hamid said it has to be kept in mind that a new trend of policing activities has started in combination of police, people and technology to face present-day crimes across the globe. "So, in addition to community policing, innovative policing activities should be continued in light of the best practices of modern policing system."

President Hamid said crimes and criminals are no longer limited to the geographical boundary of any particular country. Utilising various facilities of modern technology, organised gangs are being involved in domestic, regional and international crime networks, he said.

"It's very challenging to control and deal with such crimes. Despite this, the professionalism, skill and courage the police members have shown to prevent organised crimes, terrorism, militancy and spread of drug addiction is really commendable. It has brought peace and relief in public life," he said.

"Your success has not only been appreciated in the country but also in the international arena. I firmly believe that you will become more trained and skilled to face new challenges in the future," the president added.

Hamid said the professionalism and success of Bangladesh police in the UN peacekeeping missions is recognised worldwide today. Female police members are also performing their duties successfully in the mission, he added.

He urged the police force to keep up their efforts to uphold the honour achieved in the international arena.

The President mentioned that specialised police units have been formed to make easier the providing of police services and people-friendly ones. Apart from this, various steps, including accommodation, ration, risk allowance and medical facilities, have been taken for their welfare, he said.

Steps have already been taken to establish a scheduled bank named 'Community Bank Bangladesh Limited' for the police. These initiatives of the government will help people get police services in a much easier way, the President said.

Home Minister Asaduzzaman Khan Kamal, Inspector General of Police (IGP) Javed Patwari, and senior government officials were also present during the event.

Cabinet members, MPs, senior government officials, leaders of various professional bodies, and members of civil society also attended the function.

Secretaries to the President were also present at the programme.