Slow decline of 100-yr-old craft
Barishal's 'tal pakha' artisans yet to recover from pandemic lows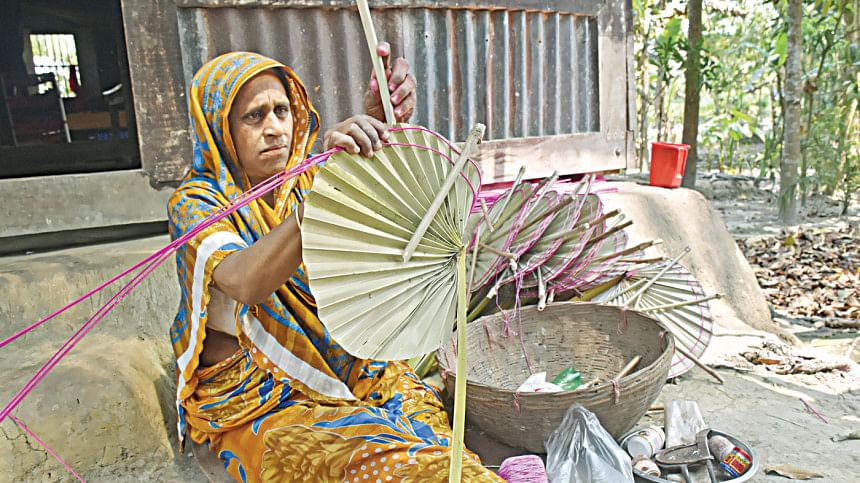 There's a small neighbourhood around 10 kilometres away from Barishal city, which is popularly known as "Tal pakha village".
For around a hundred years, six families under Wazirpur upazila's Morakathi area have been  dedicated to this craft, with the demand for these palm fans spreading  beyond Barishal due to its traditional artistic value.
But with time, the demand has started to subside, owing to lack of fairs and most households having access to electricity.
 Sultan Hawladar, a palm fan artisan of the village, said their sales have halved during the pandemic, whereas before, they used to earn Tk 1,000 per day. 
He cited one major reason: the suspension of  Pahela Baishakh fairs -- the biggest source of their revenue -- for the last two years. What's worse, the same is fated for this year as well.
Hanufa Begum, another artisan from the village, said she has been weaving palm fans since she came to the village as a bride 30 years ago, after learning the craft from her mother-in-law.
Villager Aynal Haque Hawladar said even though the demand for these fans have declined and palm trees have decreased, at least 5,000-6,000 fans would still be sold in different markets from this village.
However, the post-pandemic situation is different, as the artisans can't even make half the sales they did before. "Prompt assistance from the government is required," he suggested as a remedy.
Contacted, Hasanur Rahman Maksood, district cultural officer, said, "More than a hundred artists from different villages, including Morakathi and Gournadi upazila's Chandshi, are engaged in this profession. The cultural ministry is trying to help the artisans, with some artisans receiving Tk 10,000 as assistance from the ministry over the last two years."