Shobar Dhaka, an app (not) for all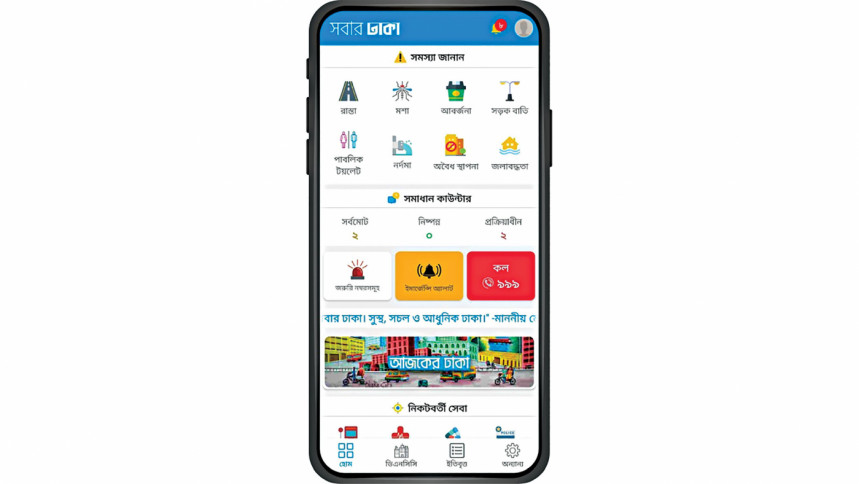 To make access to citizen services easier, Dhaka North City Corporation launched a mobile app called "Shobar Dhaka" in January last year.
Through it, residents of DNCC can lodge complaints related to eight citizen services.
From January 2021 to September 13, 2022, DNCC received a total of 1,78,947 complaints about eight civic services, including roads, street lights, and street lamps. Of them, 86,910 complaints were about mosquitoes.
An analysis of the data shows that the least number of complaints are about public toilets, 65 to be exact. Moreover, DNCC received 16,089 complaints related to roads, 39,626 related to garbage, 5,873 related to street lights, 1,049 related to sewage problems, 1,850 related to illegal construction and 869 on waterlogging.
According to DNCC data, 83 percent of the total complaints have been resolved. A total of 86,411 complaints about mosquitoes have been resolved, which is 99 percent of the total complaints.
Of the 65 complaints related to public toilets, 48 have been resolved. On the other hand, 1,850 complaints related to illegal installations were remedied, while 419 remain unresolved.
According to DNCC officials, once a user logs into the app using his or her phone number, they can select one of the eight citizen services from it and write about their issues.
They can also upload a picture related to that problem.
Afterwards, DNCC will look into the issue and get back to the complainant. Besides, one can call the national helplines (999, 333) through it. There's also an emergency alert feature for women and children, officials added.
Anik Roy, a resident of ward-11 (Kalyanpur), said, "The biggest problem with customer care in our country is waiting on the phone for a long time, wasting both time and money. But the service I got from Shobar Dhaka was much better in this regard. When I complained about the street lights, it was resolved within a short time."
Meanwhile, residents of the newly-added 18 wards in DNCC remain unable to report their grievances on the app yet, said DNCC sources.
Munna Mia, a resident of Ward 42 (Beraid), one of the newly added wards, said, "We are deprived of all such services. We heard about the app but are unable to use it and get our numerous problems solved."
These 18 wards were added to DNCC in 2016.
"Service employees have not been appointed in these wards yet. Hence, residents of these wards have been unable to lodge complaints using the app, even though they are the ones with bigger problems," said a DNCC official.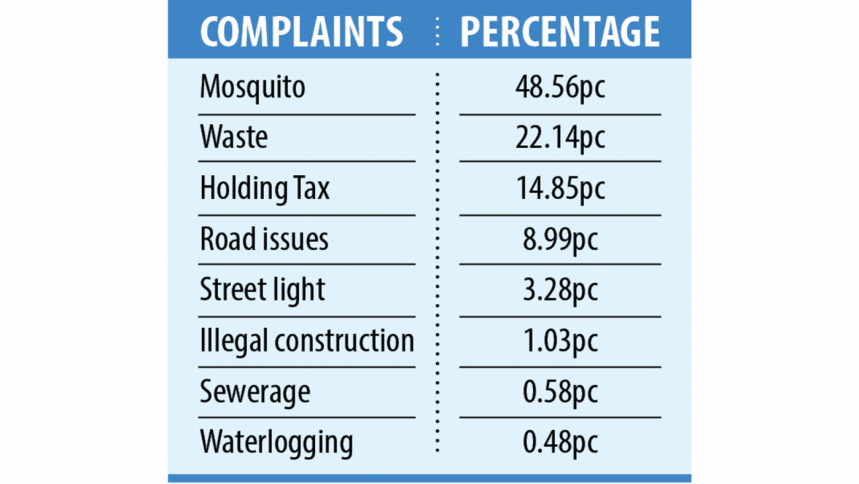 "We mainly get complaints related to vandalism, water supply, and road encroachment in the app. Some wards need some long-term projects to solve their issues," he added.
However, Sohanur Rahman, consultant for the Shobar Dhaka app, said the reason for not adding the newly-added 18 wards is the lack of "mapping".
"The newly 18 wards are yet to be included in the mapping of the app. We are working on it. Hopefully, we will get it done soon," said Sohanur.
"People are starting to trust this app more and more each day. Users have expressed their satisfaction but nothing is flawless. We are constantly working to update the app," he added.