Saving electricity: New timings for offices
Schools to have two-day holidays, govt decides in cabinet meeting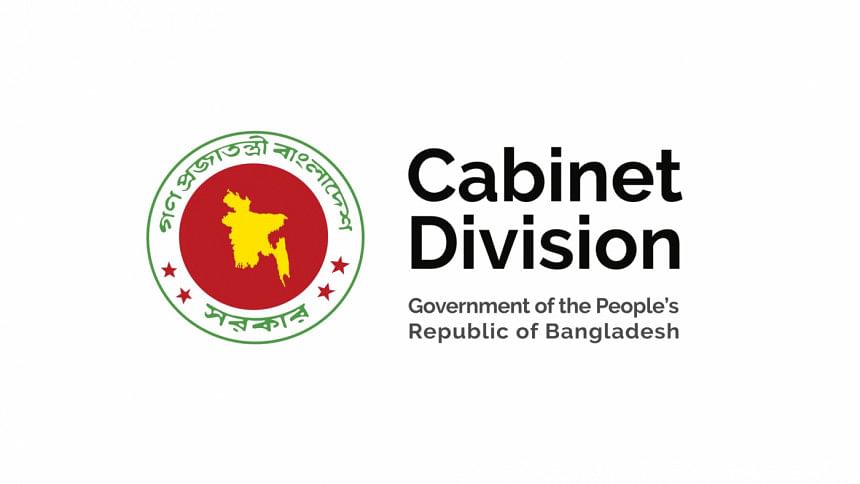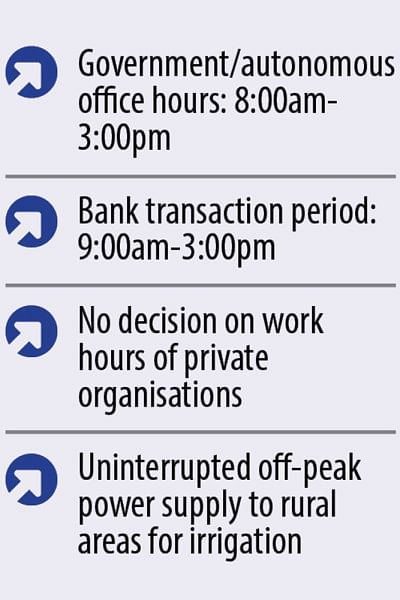 The government has rescheduled office hours and increased weekly holidays for educational institutions as part of measures to save electricity.
The decisions regarding working hours, made in a cabinet meeting yesterday, will come into effect tomorrow.
However, no limits were placed on office hours of private organisations in the meeting, presided over by Prime Minister Sheikh Hasina, who joined it virtually from the Gono Bhaban.
"The decisions have been taken to make power management more effective. It is not possible to increase power production instantly. That is why some discussions took place on how power could be managed without interrupting major industries that are imperative," said Cabinet Secretary Khandker Anwarul Islam after the meeting.
"From Wednesday [tomorrow], all government and autonomous offices will run from 8:00am to 3:00pm," he said.
Banks will be open from 9:00am to 4:00pm, the cabinet secretary said, adding that Bangladesh Bank would issue a circular in this regard.
"There will be two benefits. Electricity will be saved and traffic congestion will be spread out."
The government also decided to keep the production of fertiliser uninterrupted.
"It takes time to reopen the fertiliser factories. So, the meeting decided to keep two of the four state-owned [urea] fertiliser factories operational," he said.
Shahjalal Fertilizer Company and Chittagong Urea Fertilizer Factory Ltd are the two that are in operation, said Omar Faruk, managing director of Shahjalal Fertiliser Company.
Jamuna Fertilizer Company and Ashuganj Fertilizer and Chemical Company are currently not in operation, he added.
The meeting also decided to provide uninterrupted electricity in rural areas during off-peak hours for about 15 days for the irrigation of Aman fields.
"There is severe scarcity of water. Compared to July last year, there was 57 percent less rainfall this July," he said.
Ministers, including Agriculture Minister Muhammad Abdur Razzaque, proposed uninterrupted power in rural areas from midnight to dawn for about 10-15 days for smooth irrigation, said the cabinet secretary.
Contacted, Balai Krishna Hazra, additional secretary of agriculture ministry, said they have learnt from the weather department that there will be less rainfall in the northern districts.
"Aman is a rainfed crop. Since there will be less rainfall, we'll demand enough power supply so that we can provide sufficient water for irrigation," he said.
Replying to a question, he said the agriculture ministry would sit with all stakeholders including the power division today to fix a timetable for power supply.
SCHEDULE CHANGES
Hours after the meeting, the public administration ministry in a circular said office hours of all government, semi-government, autonomous and semi-autonomous organisations will be from 8:00am to 3:00pm.
The timing is not applicable for emergency services, it said.
The central bank in its circular said transaction hours of all banks and companies would be from 9:00am to 3:00pm.
"Officers and staff will have to leave office after completing all transaction-related activities by 5:00pm," the circular read, adding that the order would remain in effect until further notice.
The primary and mass education ministry in a circular said there will be two-day holidays (Friday and Saturday) for government primary schools.
It said from now on, instead of a half holiday on Thursdays, there will be a full school day.
In a separate circular, the education ministry said all educational institutions under the Directorate of Secondary and Higher Education will remain closed on Fridays and Saturdays.
Universities are requested to take measures following the decisions of respective authorities.
After yesterday's meeting, the cabinet secretary said government offices are also instructed to keep curtains drawn to let in daylight and reduce dependency on lightbulbs. They are also instructed to reduce use of air conditioners, he said.
"We kept the curtains drawn during the cabinet meeting today," he said.
Meanwhile, Dhaka South City Corporation (DSCC) issued a circular asking shops, malls, kitchen markets, commercial and business establishments to be shut by 8:00pm.
The order, made to save electricity, will be in force from September 1.
Restaurants and food shops have to shut by 10:00pm while food delivery services will operate till 11:00pm.
Entertainment establishments including cinema halls will be closed by 11:00pm. General drug stores will close by 12:00 midnight. Medicine shops attached to hospitals must close by 2:00am.
Dhaka North City Corporation Mayor Md Atiqul Islam told The Daily Star yesterday that they were observing the situation and would follow the decisions made by the government.
He also said they are going to introduce a system from Friday under which no DNCC official will be given fuel for their cars, except for vehicles used in garbage management or other emergency purposes.
"We have taken the decision to reduce fuel use and in this way, 14 percent fuel will be saved in a week," he said.